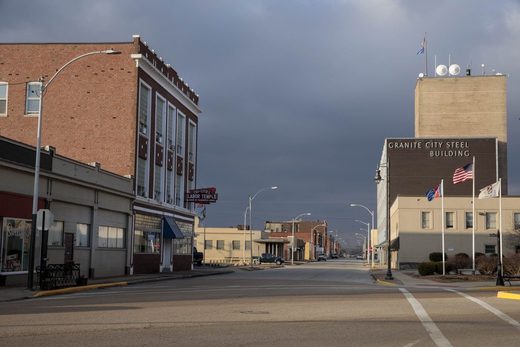 Ever since the layoffs a few years ago, many residents here had wondered when the local steel plant would again fire up its furnaces-or close forever.
Not only were hundreds of steelworkers left jobless when
United States Steel
Corp.
X -5.51%
scaled down its operations in Granite City, Ill., in 2015, but lunch deliveries to the plant vanished for a local diner while a shoe store's work-boot sales plummeted. At least 26 businesses closed within a year, according to an area chamber of commerce.
"We were in a deep state of depression here, and not sure if it would ever open again," said Mayor Ed Hagnauer, who was first elected in 2005.
Suddenly things are looking up for Granite City, an industrial town with a population of about 30,000 across the Mississippi River from St. Louis.
U.S. Steel last week said week it would fire up one of its two dormant furnaces at its Granite City mill and
start filling 500 jobs
, calling back to work many of the roughly 1,500 employees it had laid off just over two years ago.
Some expect to return to work as soon as this week, fueling optimism amid a backdrop of anxiety in U.S. manufacturing over
tariffs on imported steel and aluminum
President Donald Trump imposed Thursday.
The enthusiasm in Granite City stands in contrast to pessimism about the tariffs elsewhere and warnings of a global trade war.
Manufacturers including heavy machinery giant
Caterpillar
Inc. and motorcycle maker
Harley-Davidson
Inc. have expressed concern over
higher material costs
that
could eat into profits
and potential for
retaliatory trade barriers
that disadvantage American exports. Such fears, if they come to fruition, could bring hard times to other cities.
Granite City's fortunes have long risen and fallen with its local mill
. The town, after all, owes its name to enamel-covered steel dishes known as graniteware, product it says were key to its early development. Nowadays, in addition to the steel plant, the town's largest employers include a railcar manufacturer, hospital and school district.
Christin Bragg, who once worked on the plant's furnace crew, is among those eager to return.
"I'm excited-this is what I've been waiting for," said 46-year-old Mr. Bragg, who added he already had undergone a physical and a mandated drug test as of Thursday. He lost his approximately $60,000-a-year job in December 2015. "I want to retire from here. This is my future-this town's future."
Mr. Bragg, who once worked with the steel plant's furnaces, described difficulties post-layoff as he took on other work for less pay: borrowing money from a relative, taking food given away as charity and disappointing his family with a tight Christmas budget.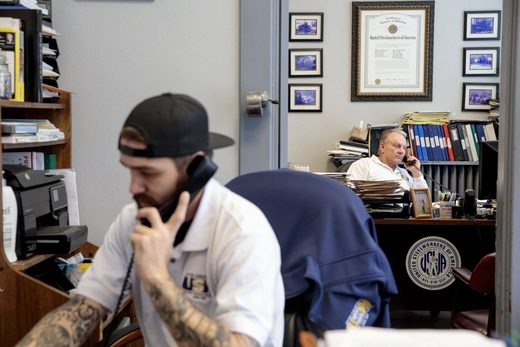 Other steelworkers were similarly elated to hear their plant was again hiring. Union officials said many took on jobs at other manufacturers or distribution centers, positions they said could be more physically taxing and less safe for half the pay, and were ready to get back to work making steel.
Some steelworkers said they had faced a Catch-22: Firms were reluctant to hire laid-off steelworkers because they knew U.S. Steel could one day summon them back.
Others who didn't find work struggled to make home and car payments, relying on food pantries, charity, unemployment and union benefits, steelworkers and union officials say. Union officials predicted many laid-off steelworkers and even some retirees would answer the call, given the benefits and pay.
Store owners share the optimism.
At Holt Shoe Shop, where business dropped about 25% after the layoffs sapped demand for work boots steelmakers are required to wear, owners Laura and Brian Smith are hoping a revenue boost will help them invest in their business. They may expand their reach with a "boot truck" to sell directly at worksites, grow their online presence and introduce new brands.
"Having grown up in Granite City, we knew that the mill is cyclical-we've seen that through the ages," Mr. Smith said. Now, he figures: "Better times are around the corner."
Michael DeBruce, owner of the Park Grill, would like to hire back a cook and deliveryman he had to let go, if the diner's business returns to earlier levels.
"Hopefully things will just keep going like they were," Mr. DeBruce said.
The Granite City steel plant didn't entirely close.
Before the layoffs started
, the plant employed 2,200, making it the town's biggest employer, according to a securities filing.
After layoffs of approximately 1,500 employees, some were eventually brought back, but the furnaces remained off.
The new hiring-related to making steel again-has significantly lifted the town's spirits, said Keith Burton, chief executive of GCS Credit Union, which was founded in 1941 as a lender for plant employees.
"People had just gotten used to the mill not being 100% active," Mr. Burton said. "Now with this news here, it's inspired a new level of hope."
Steelworkers blamed the recent turmoil in town on cheap imports that have flooded into the U.S. "We're not against trade," said Jim Patton, 58, a third-generation steelworker who was laid off a few years ago but rehired last fall. "It's just unfair trade that's killed us."
Mr. Patton and other locals cheered Mr. Trump's new tariffs.
"He has gotten stuff done that I didn't think was possible," added laid-off steelworker Mike Buckingham, 58, who expects to return to work on Sunday, referring to the president.
Despite the relief, there is also concern about unintended consequences for other towns because of Mr. Trump's new tariffs, said Rosemarie Brown, executive director of the Chamber of Commerce of Southwestern Madison County, which includes Granite City and represents metal-consuming manufacturers as well as producers.
"We don't want anyone else to go through what we've gone through," Ms. Brown said.