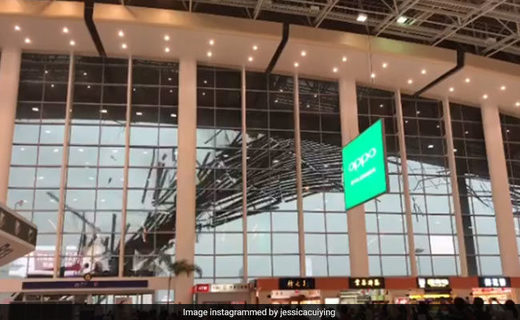 Passengers at Nanchang Changbei International Airport in China were forced to flee in terror as powerful winds wrenched the roof cladding off the terminal building. Debris rained down on cars below during the dramatic episode.
The roof at the entrance to the airport's Terminal 2 collapsed as
gusts reached speeds of 109kph (67 mph)
following a torrential downpour at approximately 3:30pm local time on Sunday.
"It really felt like the end of the world, so frightening. The wind was so strong that it seemed like it would break the glass," one netizen said, as cited by the
Hong Kong Free Press
.
The damage was largely superficial and the main structure was not impacted. Flights were briefly suspended but returned to normal scheduling once the tempest had subsided. There were no reports of injuries.
Nanchang Changbei International Airport opened in Jiangxi province in 1999. It serviced roughly 10.9 million passengers in 2017. Footage shared widely on Chinese social media shows panic-stricken passengers fleeing from the falling debris.