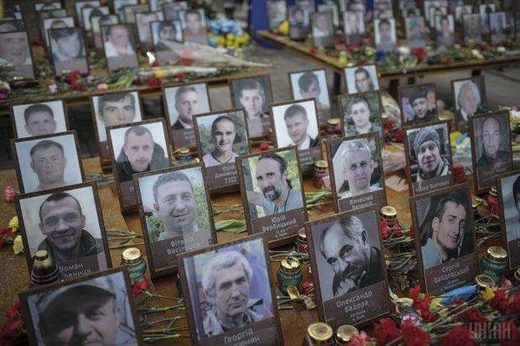 This has been public knowledge for about three years and widely discussed and proven in the alternative media, but for some reason Russian state television has chosen to start talking it up now.
Partly it is because of a ratcheting up of tensions in Ukraine which look like they could break into a hot war, and Moscow's desire to deflect this possibility as much as possible.
This video is a hard-hitting recap of the known facts, with the latest revelations, from Russia's #1 anchor, Dmitry Kiselyov.
Transcript below:
Anchor:

One detail. Petr Poroshenko Mikhail Saakashvili rushed from Kiev to Warsaw on Monday. And on Tuesday, at 11:30 a.m., Mikhail Saakashvili was expected at the Svyatoshinsky court of Kiev. There, he was to be interrogated as a witness in the case of the shooting of the so-called Heavenly Hundred, those who came to Maidan peacefully on February 20, 2014, got a bullet and were killed.

Now, the post-Maidan authorities blame Yanukovych and the Berkut special police unit for the shooting and massacre. But the trial is falling apart, as the prosecution has no evidence. Yanukovych didn't give the order to fire, and the Berkut fighters were armed only with batons and couldn't shoot, as they didn't have firearms, according to their own confessions, not even pistols, not to mention sniper rifles and Kalashnikov assault rifles.

This is absurd! Meanwhile, an international investigation is underway. Working independently, journalists from Italy, France, Canada, Georgia, Ukraine, and various Russian newspapers are digging into this bloody story and finding evidence that the shootings and massacres on Maidan were a premeditated plot to commit a coup in Kiev. Back then, a special team of snipers was brought in from Georgia.

It was organized by Mamuka Mamulashvili, the acting commander of the Georgian Legion, which is fighting in the east of Ukraine. Mamuka Saakashvili knew very well. And in court, after having a falling out with Poroshenko, he could have told about the bloody methods of the current oligarch-president used during the coup.

But now, according to the documented testimony of the witnesses, participants in the coup, and Georgian snipers, it's already clear who and from where set up a crossfire on the crowd. From the third floor of the Hotel Ukrayina, from the windows of the October Palace, which is on Institutskaya Street, and from the Conservatory building.

At the time, all the buildings were under the control of the protesters. And it wasn't just the Georgians who shot. The current Verkhovnaya Rada deputy, Vladimir Parasyuk, shot at people with a Saiga carbine. His father, Zinovy Parasyuk, from an SKS carbine. Another active member of the Verkhovnaya Rada, Sergey Pashinsky, from a Kalashnikov rifle. They fired at the crowd and the Berkut lines.

They did it to shed blood and wreak havoc. After all, the Maidan events were dying out by that time. And if it hadn't been for the dozens of people killed, there would have been no coup.

Next week, on the anniversary of the shooting of the Heavenly Hundred, mourning events are being planned in Kiev, with the laying of flowers. It's a pity that innocent people died. But it's also a pity that their killers are still free. Four years later, the bloody crime is still hidden behind a large-scale official coverup.

24 Russia conducted its investigation of the murders on Maidan. The investigation was also conducted independently by the international news agency Russia Today. Complementary results will be presented tomorrow at 1 p.m. at a press conference in the Moscow press center of Russia Today on Zubovsky Boulevard 4. The Vesti News program of the Week will feature a thorough report on the topic next Sunday.

In the meantime, Kiev is now full of violence and robbery. There's no justice. On Saturday, dozens of nationalists vandalized the building of the Russian Center of Science and Culture. At the time, there were fifty children aged from 5 to 15 in the building, and a group of foreigners was studying Russian. The police didn't detain any of the attackers.

Having written something like "Death to Russia!" on the walls, the savages left after making threats, saying that the conversation will be different next time. They demanded that the Kiev-based center cease operating.

Today, nationalists continued storming the Rossotrudnichestvo center in Kiev. They broke windows in the building, threw stones and eggs. They made a big mess. Like the day before, there were no arrests. During the same procession, the savages also broke windows in the Kiev branches of Russian banks