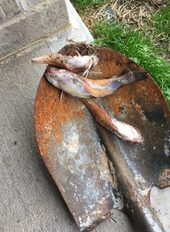 More reports of falling fish have emerged from Fulshear, Texas.
A resident posted the following to a private Cross Creek Ranch facebook group on February 16:
"...last weekend we found back in our backyard some dead fish, (around 4) we don't fish and we don't live close to the lake, this morning I found another dead fish but this time in our patio I'm guessing is (sic) a kid's prank. Our dog doesn't even come close to the dead fish, he is too afraid of them. Any similar situation? One time is ok but I dislike to be picking up dead fish from my patio so I hope this doesn't continue..."
I was able to contact the witness, who lives in the same general area as the earlier falls. She confirmed she had found several dead fish on February 14 in her backyard, then another the next day on her porch. They were larger than the original fall of fish, between 4 and 7 inches long, and looked pretty messed up. They also appear to be a different species to the ones that fell in January.
Read the rest here