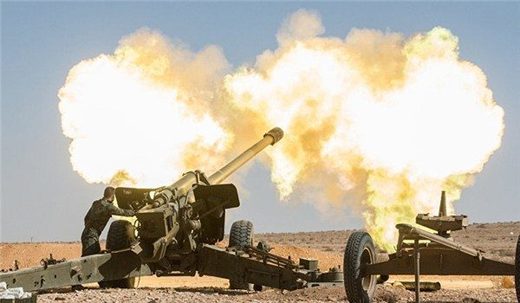 The normally reliable Lebanese news agency Al-Masdar has just reported a bombardment of Turkish military positions in southern Aleppo province by artillery belonging to the Syrian military and/or to Iranian led militia units allied to the Syrian government.
The Turkish military are said to have opened fire in response. Casualties from the shelling are reported on the Turkish side.
Here is the Al-Masdar
report
, which was filed at 7.53 pm Beirut time (5:53 pm GMT)
The Syrian Arab Army or allied paramilitary groups or both have reportedly started shelling the freshly established positions of Turkish forces in the southern countryside of Aleppo province according to both opposition and pro-government sources.

Opposition sources says that Syrian Army and allied Iranian-linked paramilitary groups have unleashed artillery fire onto recently established positions of the Turkish Army in the strategic Al-Eis area of southern Aleppo province.

Pro-government sources report that shelling of Turkish military positions has taken place - even claiming wounded among Turkish ranks - but do not specify whether or not the Syrian Army or allied militias or both are responsible for the attacks.

What is known is that non-Syrian Army pro-government units based opposite the Al-Eis area are mostly Iranian-linked or Iranian (proper) forces.

On a final note, Turkish Army artillery has apparently responded to the attacks with a rocket artillery salvo against government positions around the town of Shugheydilah.
An outright clash between the Syrian and Turkish militaries has been an alarming possibility ever since the start of the Syrian conflict in 2011.
For the Russians
- who need Turkish cooperation to advance their political goals in Syria, and to bring the war in that country to an end -
this will be especially alarming news.
The phone lines from Moscow to Damascus and Ankara will be buzzing, with Russian diplomats anxious
to find out what is going on
and looking for ways to bring whatever fighting is underway between Syrian and Turkish forces to an end.
There is a high possibility of an emergency telephone call
between Russian President Putin and Turkish President Erdogan in the next few hours, and the Russians - and quite possibly President Putin himself - will be calling Syrian President Assad also.