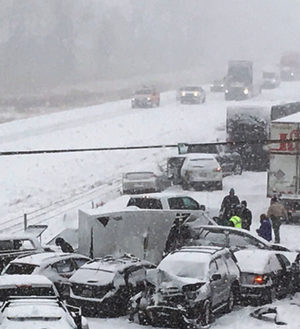 Eleven people died and dozens were injured in hundreds of crashes on snow-covered Missouri and Iowa roads Sunday and Monday.
Authorities say a 50- to 70-car pileup Monday on Interstate 35 north of Des Moines claimed a life and left several others critically injured.
The Iowa fatalities included:
Two sisters, ages 13 and 17, who died in a collision in Winneshiek County, according to the Des Moines Register. Four other teenagers, ages 14 and 15, were injured and hospitalized.
Two men died and a third was injured in a crash on Interstate 380 in Cedar Rapids.
Another man died in a crash on Interstate 80 near Grinnell.
The Missouri State Highway Patrol said the crashes in that state started Sunday afternoon as snow began falling. Less than 2 inches accumulated, but the snow quickly turned to ice as temperatures plummeted into the single digits.
The largest crash happened on Interstate 44 near Marshfield, about 150 miles southeast of Kansas City. Besides the 60 to 80 damaged vehicles, another two dozen vehicles were blocked and unable to move, said patrol Sgt. Jason Pace. The pileup killed a 55-year-old man from Glendora, California, whose name wasn't immediately released. The Interstate was closed for several hours while crews cleared the wreckage.
Pace said almost 350 crashes and 50 to 55 injuries were reported in the 18-county area he is responsible for in the southwest part of the state.
One 12-vehicle pileup on I-44 in a six-county region in south-central Missouri killed Deborah Anderson, 63, of Ballwin, the Highway Patrol said.
Three other crashes on snow-covered roads elsewhere in the state killed 32-year-old Heather Sapaugh of Salem, Missouri; 28-year-old Michael Marquette of Mexico, Missouri; and 26-year-old Jessulyn Williams of Norborne, Missouri.
In Iowa, authorities said the wrecks were caused, in part, by drivers trying to enter the freeway and crashing into existing accidents.
Story County Sheriff's Office Capt. Barry Thomas told the Des Moines Register that he couldn't see from one end of the wrecks to the other.