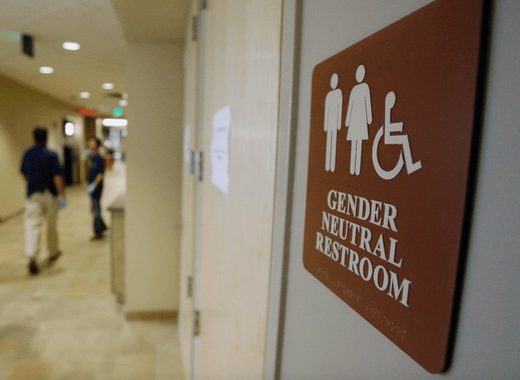 An Illinois judge denied a transgender student's request Thursday to change clothes with female students in the girls' locker room at a public high school.
The American Civil Liberties Union of Illinois, which represents Nova Maday, a biologically male student at Palatine's Township High School District 211, had petitioned a trial court last year, arguing the student should be treated like other females and not be forced to change clothes behind a curtain.
But on Thursday, Judge Thomas Allen rejected the request, leaving the ACLU to consult with its client on how to move forward with the case.
"Clearly, we are disappointed in this decision. We continue to believe that the school is wrong to discriminate against our client. There is no exception under our nondiscrimination laws that allows a school to treat transgender students differently because of lack of understanding or discomfort about transgender people," said John Knight, LGBTQ policy director at the ACLU.
"To me, this is a simple question -
am I going to be treated just like any other girl in my school.
All I want is to be accepted by my school for who I am - a girl - and be able to take gym and use the locker room to change clothes like the other girls in my class," the student said after the judge's decision.

Comment: The question is, should society accept that a boy is really a girl because he says so?


The ACLU had cited the Illinois Human Rights Act, which prohibits discrimination, in its argument. But Kellie Fiedorek, an attorney for the Alliance Defending Freedom (ADF), said that's a "baseless" claim.
"That law specifically allows facilities like locker rooms to be reserved for girls, whose desire for privacy is both important and understandable, particularly in the post-Weinstein era," said Ms. Fiedorek, referencing disgraced Hollywood mogul Harvey Weinstein. Dozens of women came forward last year, alleging Mr. Weinstein sexually assaulted them.
ADF, along with the Thomas More Society, represented a group of concerned parents and students who intervened in the ACLU's lawsuit.
"
Schools should never be forced to give male students unrestricted access to areas where girls are changing clothes
.
Claiming a female gender identity doesn't change that,
" said Thomas Brejcha, chief counsel at the Thomas More Society.
ADF's press release noted the transgender student continues to have access to the female locker room, but is required to change behind a curtain.