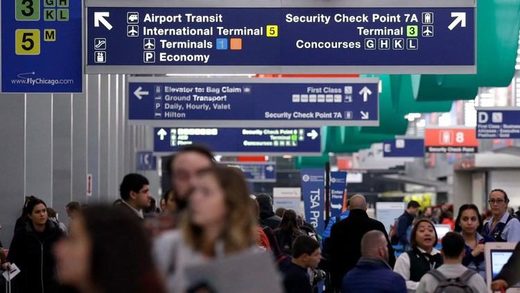 The Illinois Department of Public Health announced Wednesday that a second case of measles has been reported at O'Hare International Airport.
The affected individual was a passenger on a flight that arrived at the international terminal (Terminal 5) between 8:30 a.m. and noon Jan. 9, health officials said, the day before
another passenger with measles landed at the same terminal
.
The
cases are unrelated
, a health department spokeswoman said, and officials maintain that there is not an outbreak of measles at O'Hare. Both individuals had already contracted measles before arriving at the airport, according to the health department. Citing patient confidentiality, a spokeswoman
declined to say where the travelers were coming from or whether they had come from the same country.
The patient in the Jan. 9 case visited an office plaza in Skokie on Jan. 10, as well as emergency rooms at NorthShore Evanston Hospital, NorthShore Skokie Hospital and Advocate Lutheran General Hospital Park Ridge at various times between Jan. 10 and Jan. 13. Officials did not say why this patient visited multiple emergency departments.
Advocate Lutheran General Hospital, in an emailed statement from a spokeswoman at its children's hospital, said protocols for notifying patients and caregivers of possible exposure have been initiated.
The hospital did not release further details about the patient.
In the Jan. 10 case, after arrival, the affected individual did not leave the airport and departed on a domestic flight several hours later.
Most individuals have been vaccinated for measles as children and are not at high risk. "Very few people," about 3 percent, who receive two doses of measles vaccine will contract the virus if exposed to it, the Centers for Disease Control and Prevention
notes
, adding that travelers can bring measles into the U.S. from common travel destinations like England, France, Germany, the Philippines, Vietnam and India.
If infected, individuals could develop symptoms as late as Feb. 1.
At highest risk are people who have not been vaccinated, state officials said.
"It is important for everyone who can be vaccinated to get vaccinated, if they aren't already," Dr. Jennifer Layden, chief medical officer of the health department, said in a Wednesday statement. "Getting vaccinated not only protects you, it protects others around you who are too young to get the vaccine or can't receive it for medical reasons."
The measles virus can cause complications like pneumonia and swelling of the brain, called encephalitis. The virus can be spread easily through coughing and sneezing, and can remain on surfaces "hours after" an infected individual leaves an area, officials said.
Symptoms of measles infection include
rash, high fever, cough, runny nose and red, watery eyes.
If these develop, the department advises calling a health care provider before going to a medical office or emergency department, which ensures special arrangements can be made for evaluation while protecting other patients and medical staff from possible infection.
There were 120 reported cases of measles nationally in 2017, CDC preliminary data show, up from 86 cases the year before.
There were no reported cases of measles in the state in 2017.