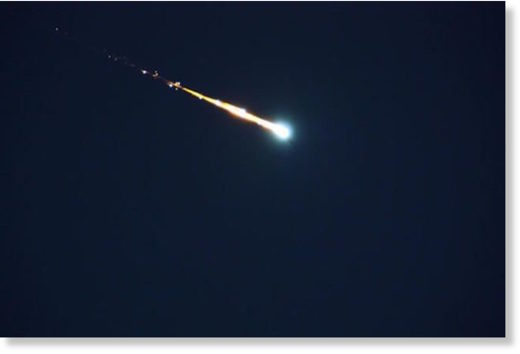 This was no early New Year's firework.
Four months after a spectacular fireball was seen over Northeast Pennsylvania and witnessed by people attending a home football game at Wallenpaupack Area High School, another was seen on December 29th, over Lake Wallenpaupack.
Fireballs are extraordinarily bright examples of meteors, still commonly referred to as "shooting stars." Actually small bits of rock and often left over debris from a comet, meteors become visible when they are captured by Earth's gravity, and they vaporize high in the atmosphere.
Typically seen 40 to 60 miles above the ground, this fireball was by no means limited in view from the northern Poconos.
Kristen Brown of Paupack contacted The
News
Eagle
, stating that she saw it as she sat at her kitchen table Friday night, looking out over Lake Wallenpaupack. It was 5:20 p.m., facing northwest.
″... For a very brief moment I saw what I initially thought was a firework, but it was too high and too round, and realized that it was a fireball!," she said in an email. "The meteor was bright green and it journeyed only a short distance, traveling downward and perpendicular to the horizon, yet still high in the sky. It was especially beautiful as the sky was still light from the setting sun."
The bright green fireball was followed by a fainter trail.
Having read the story about the earlier fireball in the December 13th edition of The
News
Eagle
, she took the advice and reported the observation at the web site for the American Meteor Society, which tracks these events.
As of Tuesday there were 20 other sightings recorded of the same fireball. Observers were spread across eastern Pennsylvania, the metropolitan New York area, Finger Lakes to the Capital region of New York, northern Connecticut and western Massachusetts.
A request for observation reports was placed on The
News
Eagle
'
s
Facebook page, December 31st. By January 2nd, 1,550 people had read the post.
Rebecca Simensen Carroll of Browns Mills, NJ, stated, "My husband and I saw it... Was super cool!" She also emailed a report. She said she and her husband Edward had just turned off of Route 209 onto Independence Road in East Stroudsburg heading northwest.
"It was closer and bigger than any other shooting star I have ever seen," Rebecca wrote. "We watched it come down and then burn up! Yellowish-green color! I was sometime after 5:00. Coolest thing ever!"
Anyone observing this or another spectacular meteor, or other phenomena of nature, is invited to contact the writer, Peter Becker at
news@neagle.com
or call him at 570-226-4547. To assist with scientific analysis, fireball sightings may be reported to the American Meteor Society at:
www.amsmeteors.org
.