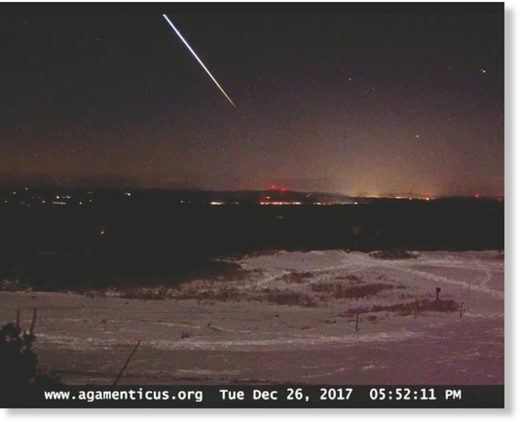 People in New Hampshire and other parts of New England and the Northeast were treated to an unexpected light show early Tuesday night when a bright fireball that appeared to be a meteor shot across the night sky.
Many reported seeing the fireball just before 6 p.m.
Greg Kretschmar, host of WHEB's "Greg & the Morning Buzz" radio show, was one of those lucky enough to catch the sight as he was driving north on Route 16 in Newington.
Kretschmar said it streaked along the side of him from south to north and he saw what appeared to be "sparks" in the tail with a hint of green. He said the fireball lasted about four or five seconds.
Jen Wagaman of Milford said she was letting her dogs go outside when she saw the fireball.
"I was facing north and it started right above my head and burned very bright white all the way in front of me to the wood line/horizon. Thought it was a firework or flare at first. It was very bright," she wrote on Twitter.
Wagaman said it was about 10 times brighter and bigger than any meteor she's seen.
"I've only ever seen them when staring up at the sky, and usually just short-lived streaks of light. With this I wasn't even looking up, I was looking straight ahead and this was so big it made me look up," she said.
An image of the fireball was captured by a webcam at the Mount Agamenticus Conservation Region in southern Maine.
The fireball was also seen in Maine, Massachusetts and as far away as Montreal, Canada.
The National Weather Service in Gray, Maine, tweeted that anyone who saw the fireball should report it to the American Meteor Society through its website, www.amsmeteors.org.
The site has an interactive form where sightings can be reported. The reports are important because they alert the AMS of "potentially scientifically significant events."