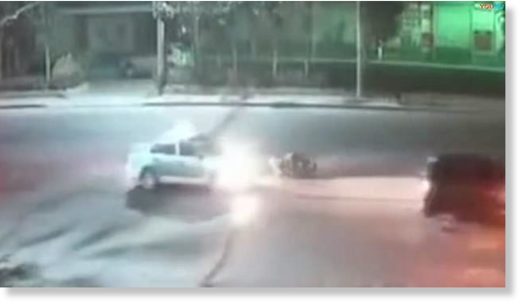 A woman was saved by a heroic bus driver while being attacked by a Tibetan Mastiff in the middle of a road in east China.
CCTV footage captured the moment the driver fended off the dangerous dog with a fire extinguisher.
The woman and the driver have been taken to hospital by onlookers, and the dog is still at large.
According to
The Paper,
Ms Song saw a Tibetan Mastiff wandering in the middle of the traffic on her way back home in Zibo, Shandong Province.
The canine, usually favoured by rich Chinese people, started to attack her when it spotted her at the lane barriers.
Surveillance video shows the dog pounces onto Ms Song suddenly and attacks her.
'I'm struggling to fight off the dog. It bit my leg and I screamed,' Ms Song recalled.
Bus driver, Mr Lu, stopped by and grabbed a fire extinguisher from the bus to help out.
'I didn't do much, I just grab it and hit onto the dog.
It went away and came back to bite me,' he told The Paper.
The Mastiff pounced onto Mr Lu and pressed him onto the floor.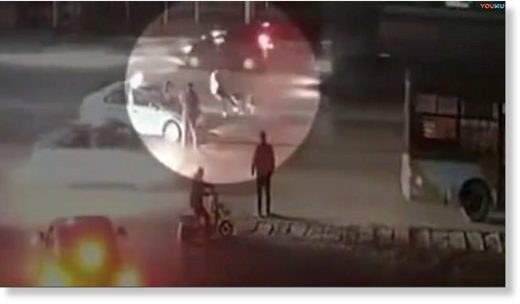 A few onlookers joined forces to help fend off the dog. They also took the injured pair to local hospital for emergency treatment.
It's not known where the Mastiff is right now or if it is a pet dog.
Zibo police are trying to look for the dog while further investigation is under way.
Tibetan Mastiff is the world most expensive dog breed. A man from Qinghai, north China, once sold a Mastiff for over two million yuan, or £233,628 in the heyday.
Enormous and sometimes ferocious, with round manes lending them a passing resemblance to lions, Tibetan Mastiffs used to be extremely popular among rich Chinese businessmen and government officials.
A top gold-maned Tibetan Mastiff pup was sold at a Chinese luxury pet fair for a staggering £1.2 million in 2014 in Zhejiang province.
Nearly 1,000 dogs have been abandoned in Yushu Tibetan Autonomous Prefecture as a growing number of
stray Mastiffs had reportedly attacked people and stolen the livestock in the area, causing serious concerns among local residents.