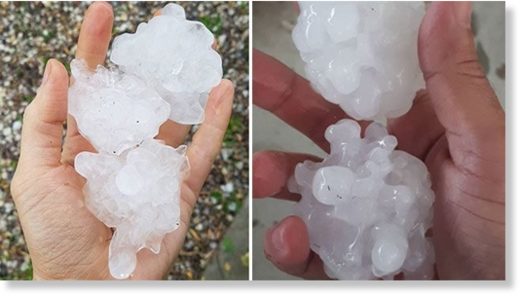 Extreme weather hit the Australian states of New South Wales and Queensland this past weekend. The Australian
Daily Examiner
described the scene in Grafton, New South Wales, where there were:
more than 50 calls for help after a large hail storm caused widespread damage on Saturday afternoon.

A large thunderstorm hit Grafton around 1.20pm, with hail the size of tennis balls battering some parts of the region.

SES Clarence Nambucca region controller Michael Harper said SES resources from neighbouring towns were called in to respond to the large numbers of requests for help.

"We had about 50 or more call outs on Saturday afternoon, and they were virtually all for broken windows, smashed skylights and roof damage," Mr Harper said.

"It was a busy afternoon for them, we had about 10 crews out cleaning up and helping people, with most jobs completed by 10pm that same day, with only one or two left over the finish the next day."

Mr Harper said Saturday's hail storm was the first major storm to hit Grafton since the start of the storm season.

"There were hail stones up to seven to eight centimetres in size which is quite large," he said.

"The storm went for about 15 or 20 minutes, and in that time it did cause some damage.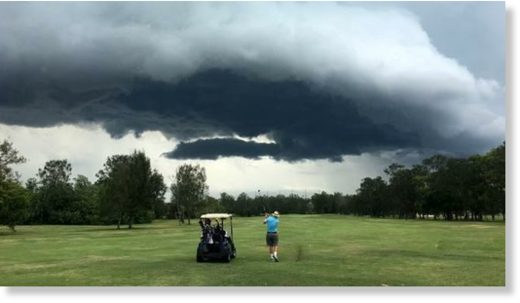 The southeast of Queensland was also hit by
very heavy rainfall
with 4 inches of rain in half an hour recorded at one locality:
Thousands of homes were without power overnight after a series of severe storms dumped heavy falls and hail across the state's southeast.

The Sunshine Coast copped the worst of the weather, where more than 110mm of rain drenched Bli Bli in less than an hour.

Coolum was also soaked by about 60mm, while Maroochydore experienced falls of up to 67mm.

More than 13,000 homes and businesses on the Sunshine Coast were without power following the deluge, as emergency services responded to downed powerlines and trees.
Over
133,000 lightning strikes
were recorded during the storm, with footage of the supercell captured over the Sunshine Coast.
This latest anomalous weather continues a trend noted across Australia in the last 2 months, with
unseasonal snow, highly destructive winds
,
record numbers of lightning strikes
and
pummeling hailstorms
pounding the country. This see-sawing between extremes is rapidly becoming 'the norm' nowadays, and will very probably remain so for the foreseeable future.
To keep up-to-date with such exceptional weather events, check out our pages dedicated to tracking
storms,
floods
and
extreme temperatures
.