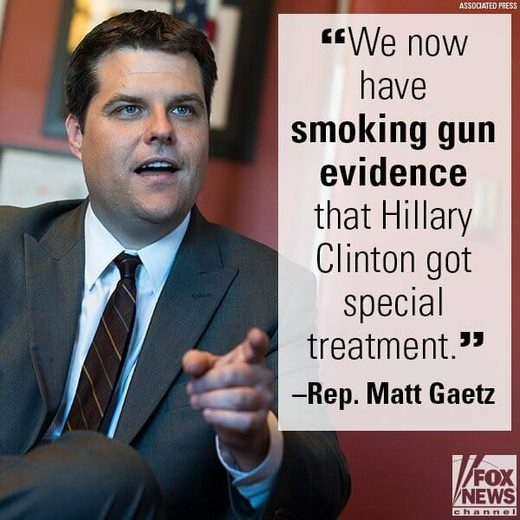 Yesterday, during an interview on Fox News' "Fox and Friends", Congressmen Matt Gaetz declared: "We have got to find out what's going to be done to clean up the deep state that's discrediting the rule of law in this country, giving special treatment to liberal Democrats like
Hillary Clinton
, and then having just this merciless prosecution of the president."
Today, During a morning press conference organized by Congressmen Matt Gaetz, Gaetz , Jim Jordan , Mark Meadows, and others expressed their frustration in the FBI's investigation into Hillary Clinton's criminal activity.
Mr. Gaetz, who is a member of the House Judiciary Committee, has been fighting for a comprehensive investigation into Mrs. Clinton's emails ever since 2016, found the investigation (or lack thereof) "deeply troubling."
Standing in front of the Capitol, the representatives called upon FBI Director Christopher Wray to now address their concerns surrounding Hillary Clinton.
Rep. Hice of George stood strong against the bungled investigation into failed presidential candidate Clinton:
"It is clear that Hillary Clinton's received break after break after break from the FBI.... Everyone ought to be treated equally under the law, regardless of who they are." He called for "an investigation into the FBI's process and procedures."
Following, Rep. Perry of Pennsylvania made it clear that if we allow the corruption that leads to Clinton being "let off" to continue, we may wind up in a "police state": "Is this now a Justice Department that prosecutes individuals? Folks, this is how police states are started. This is how it begins. And it has to stop."
In a question to
Newsweek
, Rep Gaetz shot down the notion that Clinton shouldn't be investigated because she didn't win: "We don't want to live in a country where losing an election is a de facto immunity deal," he said.
"People have to be accountable for their actions whether they win or lose."
He also took issue with the special counsel probe, saying,
"How can any evidence developed and presented by the Mueller probe be viewed as anything but the fruit of a poisonous tree?"
The underlying message of the press conference goes beyond the FBI's farce of an investigation into Hillary Clinton,
it is about Washington insiders being able to pull political favors that result in guilty politicians and criminals being able to walk away from their crimes
, so long as they are part of a certain political party. As Rep Meadows said, "We cannot allow the highest law enforcement agency in the land to actually be in a situation where they allow partisanship to determine."