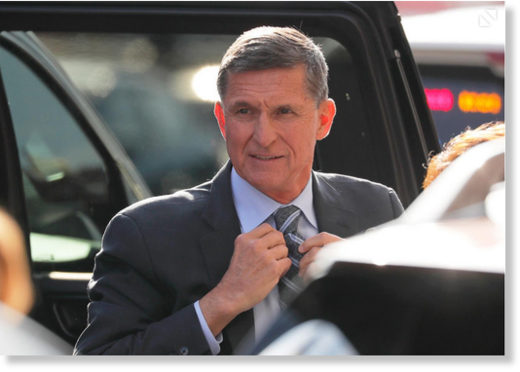 Former Trump-administration national-security adviser Michael Flynn, who is reportedly cooperating with the investigation of special counsel Robert Mueller, is pleading guilty in federal district court in Washington, D.C., to a one-count criminal information (which is filed by a prosecutor in cases when a defendant waives his right to be indicted by a grand jury).
Mueller has charged Flynn with falsely telling FBI agents that he did not ask the Russian ambassador "to refrain from escalating the situation" in response to sanctions imposed by the Obama administration on Russia for allegedly 'interfering in the US election'. In being questioned by the agents on January 24, 2017, Flynn also lied when he claimed he could not recall a subsequent conversation with Kislyak, in which the ambassador told Flynn that the Putin regime had "chosen to moderate its response to those sanctions as a result of [Flynn's] request."
Furthermore, a week before the sanctions were imposed, Flynn had also spoken to Kislyak, asking the ambassador to delay or defeat a vote on a pending United Nations resolution. The criminal information charges that Flynn lied to the FBI by denying both that he'd made this request and that he'd spoken afterward with Kislyak about Russia's response to it.
Comment:
Two things to note here: 1) There is obviously nothing wrong with Flynn talking to the Russian ambassador, that is part of the role he was about to assume in the White House. In fact, Flynn was working in America's interests by trying to get the Russians to not over-react to the sanctions imposed by Obama. Flynn's second chat with the Russian ambassador also involved him making effort to convince the Russians
to delay or defeat a UN resolution condemning illegal Israeli settlements
, which is clearly in line with long-standing US policy towards Israel. So what's the beef? There is none, obviously.
2) The FBI spied on Flynn and the Ambassador. Nice. But in that case, why did they need to ask Flynn what he talked about with the Ambassador? The scurrilous and corrupt FBI already knew.
Thus, in all, four lies are specified in the one count. The potential sentence is zero to five years' imprisonment.
Assuming Flynn cooperates fully with Mueller's investigators, there will be little, if any, jail time.
Obviously, it was wrong of Flynn to give the FBI false information; he could, after all, have simply refused to speak with the agents in the first place. That said, as I argued early this year,
it remains unclear why the Obama Justice Department chose to investigate Flynn.
There was nothing wrong with the incoming national-security adviser's having meetings with foreign counterparts or discussing such matters as the sanctions in those meetings. Plus, if the FBI had FISA recordings of Flynn's conversations with Kislyak, there was no need to ask Flynn what the conversations entailed.
Flynn, an early backer of Donald Trump and a fierce critic of Obama's national-security policies, was generally despised by Obama administration officials.
Hence, there has always been cynical suspicion that the decision to interview him was driven by the expectation that he would provide the FBI with an account inconsistent with the recorded conversation - i.e.,
that Flynn was being set up for prosecution on a process crime.
While initial reporting is portraying Flynn's guilty plea as a major breakthrough in Mueller's investigation of potential Trump-campaign collusion with the Russian regime, I suspect the opposite is true.
Nevertheless, as I explained in connection with George Papadopoulos (who also pled guilty in Mueller's investigation for lying to the FBI),
when a prosecutor has a cooperator who was an accomplice in a major criminal scheme, the cooperator is made to plead guilty to the scheme. This is critical because it proves the existence of the scheme. In his guilty-plea allocution (the part of a plea proceeding in which the defendant admits what he did that makes him guilty), the accomplice explains the scheme and the actions taken by himself and his co-conspirators to carry it out. This goes a long way toward proving the case against all of the subjects of the investigation.
That is not happening in Flynn's situation
. Instead, like Papadopoulos, he is being permitted to plead guilty to a mere process crime. A
breaking report from ABC News indicates that Flynn is prepared to testify that Trump directed him to make contact with the Russians - initially to lay the groundwork for mutual efforts against ISIS in Syria
.
That, however, is exactly the sort of thing the incoming national-security adviser is supposed to do in a transition phase between administrations. If it were part of the basis for a "collusion" case arising out of Russia's election meddling, then Flynn would not be pleading guilty to a process crime - he'd be pleading guilty to an espionage conspiracy.

Comment: Ah, but here's the rub. From the point of view of the 'deep state' actors in the USA, any attempt by Trump administration officials to make a deal with Russia to destroy ISIS rather than arm, fund and train them, as the CIA had been doing, was tantamount to 'espionage' and 'treason'.