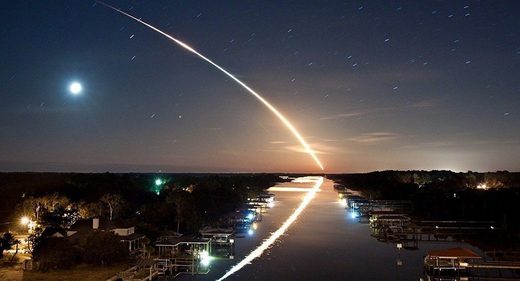 Residents of the city of Yekaterinburg in Russia's Ural mountains continue their guesswork on what some have described as a fallen meteorite.
Some Yekaterinburg citizens have tweeted that in the early hours of Monday, an unidentified glowing object fell near the southern outskirts of the city near the local EXPO exhibition center and Koltsovo airport.
The Russian Emergencies Ministry's branch in the country's Sverdlovsk region told
RIA Novosti
that there had been no reports of any such incidents in Yekaterinburg.
A representative for the Koltsovo airport in turn was quoted by RIA Novosti as saying that that the airport is operating in routine mode.
Some media outlets cited an EXPO center spokesperson as saying that the "fall of the meteorite" was a marketing campaign held by the administration of a local amusement park ahead of the unveiling there of the so-called Space New Year's Tree.
According to the spokesperson, the organizers of the project decided to stage a show to announce the arrival of the exhibits of the Cosmonautics Museum and attractions for the Christmas tree.
"At Yekaterinburg in the night of 27 November fell meteorite in the area the local Convention Center. Well, Yevgeny Roizman, now meet the alien. https://tvzvezda.ru/news/vstrane_i_mire/content/201711271006-rbdt.htm ..."
An array of Twitter users in Yekaterinburg showed mixed reactions to the news, with this used joking about the upcoming meeting with aliens.
Another user described the alleged meteorite as "purely Urals news."