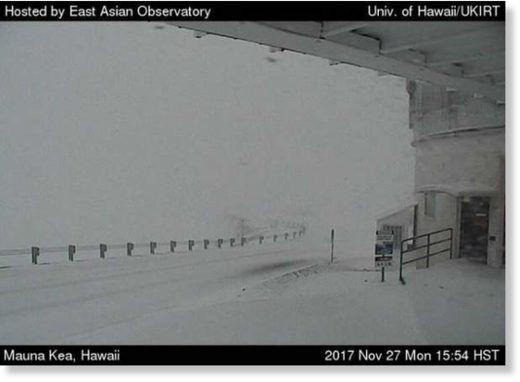 Snow fell Monday on the summits of Mauna Loa and Maunakea after the National Weather Service declared a winter storm warning.
The warning extends through 6 p.m. today.
Summits could see up to six inches of snow in total,
although NWS meteorologist Leigh Anne Eaton said any significant accumulation is unlikely.
"It's probably going to be a snow-rain mix," Eaton said.
She said the storm is the result of a weather front of "enhanced moisture," which will sweep across the windward side of the Big Island, causing heavy showers throughout the island's east side and snowfall at higher altitudes.
Snowfall is expected to continue on the mountains throughout the week,
with the weather service predicting an 80 percent chance of snow showers each day through Thursday night.
The NWS also issued a flash flood watch for the entire island Monday, citing the possibility of heavy rainfall and thunderstorms that might lead to flooding in low-lying areas.
Residents are advised to remain vigilant for flooding and road closures and to limit extensive road use, if possible. Severe weather also could damage power lines, which residents are cautioned to avoid.
The flash flood watch, which ends today at 6 p.m., comes after heavy rainfall during the Thanksgiving weekend. Eaton said some regions on the east side of the island received more than 9 inches of rain between Wednesday and Monday morning.
Kawainui Stream received 9.08 inches of rain during the long weekend,
while Hilo received 4.39 inches, 2.31 of which fell on Thanksgiving day alone. Meanwhile, Honokaa received 2.78 inches during the weekend.
Hilo has recorded 12.04 inches of rain so far this month, despite nine days on which no rain fell at all. The average November rainfall for Hilo is 15.5 inches, according to data from the National Oceanic and Atmospheric Administration National Climatic Data Center.
Meanwhile, the heavy rainfall caused a minor landslide on Highway 19 near the Singing Bridge and Bayshore Towers on Monday morning, but did not warrant a road closure.