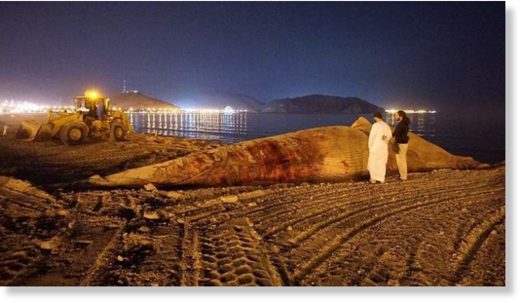 A dead whale carcass measuring 16 metres has been found floating off shores near Khor Fakkan port, an official said on Monday.
The carcass was spotted by a fisherman who reported the find to UAE Coast Guard around 6am.
Hana Saif Al Suwaidi, Chairman of Environment and Protected Areas Authority in Sharjah, told
Gulf News
that they are working to tow the whale's body to the shore.
Al Suwaidi said the humpback whale is found in waters stretching from Asia toward the Horn of Africa.
Initial examination is leading marine authorities to speculate the whale died from injuries sustained from collision with a tanker.
The whale's carcass is believed to have apparently been pushed into the emirate's waters and towards the port area by strong sea currents.
Coast Guard officials informed Environment and Protected Areas Authority in Sharjah and the local municipality.
Environment and Protected Areas Authority now plans to put the whale's carcass and skeleton on separate display in the Kalba protected area which will be inaugurated next year.
The centre also took DNA samples of the whale for scientific studies and research while the remains will be buried in Al Qaram protected area.
"We rarely get whales as big as this one on our coast,
and we think displaying it in one place in the emirate is good for children and others to educate them about whales," she said.
Different species of whales — the world's largest mammals — have been spotted in the Sea of Oman, which is located on the UAE's eastern coast.
These include Blue Whales, the largest animal ever known, Fin Whales, Sperm Whales, and Humpback Whales.
In recent months, a growing number of Killer Whales — also known as Orca — have been spotted off the coast off Oman's Musandam Peninsula.