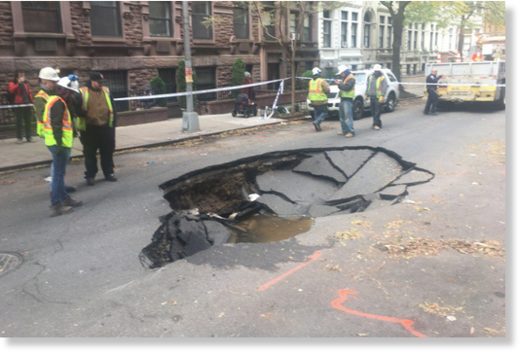 New Yorkers had a scare early Monday morning after a water main failure caused a 20-foot-long sinkhole to open up on Manhattan's Upper West Side.
The sinkhole appeared around 8:30 a.m. on West 82nd Street between Central Park West and Columbus Ave., after residents reported a water main break, according to
a local CBS affiliate.
The New York City Department of Environmental Protection, the New York Fire Department, and Con Edison all responded to the scene. The DEP did not immediately respond to a request for comment.
The street has been used as a staging ground to inflate balloons for the annual Macy's Thanksgiving Day Parade in past years. It was repaved a year ago, and
some of the water main pipes were recently replaced, CBS reported.
Sinkholes generally form when rainwater or runoff seeps into a crack in the pavement and trickles down into sediment below the ground. As the water seeps in, it slowly hollows out the sediment until the pavement above collapses.