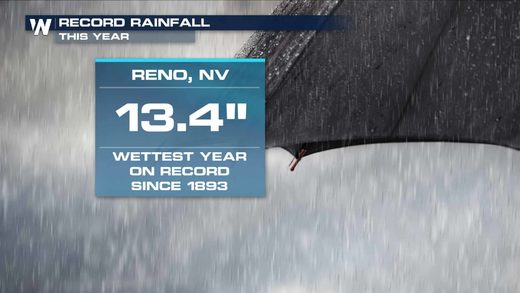 The weather record's keep accumulating in northern Nevada.
After Thursday's heavy rainfall, Reno surpassed its wettest calendar year on record, according to the National Weather Service in Reno. With a record rainfall of 0.81 inches on Thursday, Nov. 16, the total precipitation for 2017 now stands at 13.40 inches, setting a new record for the greatest precipitation total in any calendar year at Reno.
This, NWS Reno says, breaks the old record from 1983, which had a total of 13.23 inches.
Notably, there are still 45 more days left to add to the precipitation total.
With precipitation records in mind, here are the top 10 wettest years at Reno:
13.40'' 2017 *45 Days Left
13.23'' 1983
12.56'' 1995
12.21'' 1996
12.03'' 1998
11.10'' 1982
10.93'' 1963
10.58'' 1971
10.23'' 1940
10.22'' 1969
(Period of record: 1937-03-01 to 2017-11-16)