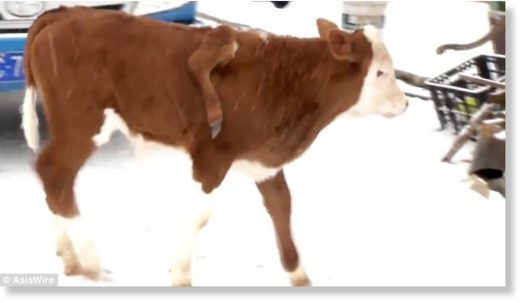 A farmer in China was astonished to find one of his new-born bull calves had an extra leg on its back.
The mutant animal seems unaffected by the extra limb and is developing otherwise normally.
The animal was born on a farm near Muling city in the Heilongjiang Province of north-east China.
The leg complete with cloven hoof grows out from the young bull's back. It's just behind its shoulder, and hangs down its right side.
A gene mutation is thought to be behind the extra limb.
The animal's owner Wu Yujiang told a reporter from
Pear Video
that he would be happy to donate the bull to a zoo so that 'more people could come and see it'.
The condition of having extra limbs is known as polymelia.
It is often caused when two embryos start off as conjoined twins but one dies early in development and only one limb is left by the time of birth.
Another condition that can cause extra legs is dipygus, when the torso of an embryo forks at an early stage in development, resulting in the duplication of the legs.
Source: Asia Wire