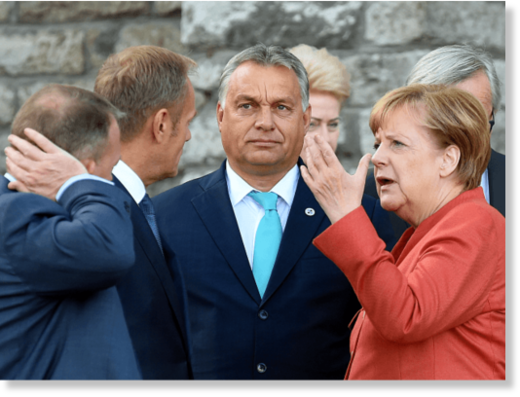 Hungary's Viktor Orbán has warned that the elites plotting a United States of Europe are using mass migration to engineer a post-Christian, post-national super-state.
Breitbart London has seen a transcript of the Central European leader's speech to the 7th Plenary Session of the Hungarian Diaspora Council, in which he told listeners: "A nation that has found its feet is a free nation. It is fair to say that since we found our feet we have begun to act as a free nation.
"But this has also brought with it some problems. Whatever a nation of serfs does will seldom lead to international conflict, but this is not the case with a free nation."
The prime minister was referring to his country's
ongoing struggle
with the European Union over whether or not it should be allowed to impose
compulsory migrant quotas
, and over Hungary's decision to face its demographic challenges through policies supporting the family, rather than "seeking to build their future demographic and labour policies on immigrants" - like much of Northern and Western Europe.
With 244 million people on the move, migration is inevitable, necessary, and desirable. Here's why: https://t.co/oJT8snK1n3 #ForMigration pic.twitter.com/sGURKvxIqC

- IOM (@UNmigration) May 15, 2017
"Today we live in a world in which we need to protect what we have achieved," the Fidesz leader warned, adding that the "principal danger" to Europe's achievements "lies in the debate between globalists and nations".

Comment: Orban has a point. In our current world, under an anglo-American empire defined by corruption and illegality, any country that seeks to establish itself on a more equitable and sovereign footing will, by definition, have to fight for it.


He explained: "
Europe has decided to set out on a post-Christian and post-national era
. In other words,
it has envisaged a new era in which it will replace policy built on Christian traditions and national consciousness with something different
. For want of a better term, we call it policy for a '
United States of Europe
'."
He said that "the political forces intent on creating a United States of Europe
have been deliberately transporting to Europe - and will continue to transport - multitudes of people from other cultures" in the service of their ultimate goals, due to a "definite underlying attitude that, in a United States of Europe, nations and their Christian character are more of a drawback than a benefit
".
Orban: "Our greatest threat is the indifferent silence of a European elite who are renouncing their Christian roots" https://t.co/2KoLLOXJqy

- Jack Montgomery ن (@JackBMontgomery) October 12, 2017
"
This is the only logical explanation for millions of people being transported to Europe from other cultures
-
as there must be some sort of explanation for why this is happening now. We cannot consider this to be an accident,
" he said, insisting that
the EU would be perfectly capable of defending its external border if it had the wil
l
- as Hungary's own highly effective
border wall
amply demonstrates.
Prime Minister Orbán finished his address with a rhetorical flourish, referring to the 2018 parliamentary
elections
in which his party is currently
polling strongly
:
"Shall we protect our achievements and keep Hungary as a non-immigrant country, or shall we throw in the towel and accept the dictates of others?

"Shall we revert from a free nation to a subjugated nation?

"Shall we accept others transforming us according to their preferences - specifically transforming us into an immigrant country which does not build on its national culture and Christian traditions, but indeed seeks to break away from them?"