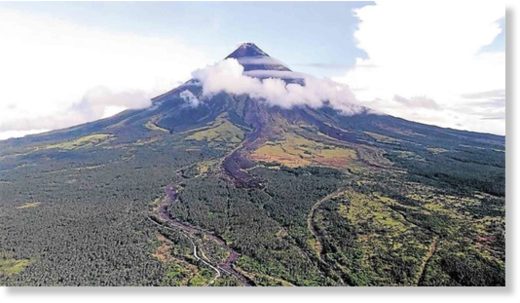 The Philippine Institute of Volcanology and Seismology (Phivolcs) said Monday, October 30, that Mayon Volcano remains on alert level 1 following the occurrence of at least 57 volcanic quakes since Saturday, indicating its sustained abnormal state.
Alert Level 1 means Mount Mayon is having an "abnormal condition."
"Although this means that presently no magmatic eruption is imminent, it is strongly advised that the public refrain from entering the 6-kilometer radius Permanent Danger Zone due to the perennial life-threatening dangers of rockfalls, landslides/avalanches at the middle to upper slope, sudden ash puffs and steam-driven or phreatic eruptions from the summit," the Phivolcs 8 a.m. bulletin stated.
Phivolcs resident volcanologist Ed Laguerta said the agency is closely monitoring the surge of volcanic earthquakes currently taking place for the past three days, specifically the parameters that could trigger the volcanic tremors.
When asked on the possible reasons for the tremors, Laguerta said these are due to "rock fracturing" due to pressure beneath the volcano's edifice.
Laguerta said they are currently assessing the state of the volcano based on given parameters.
"So far, there is still no indication that Mayon's abnormal behavior has intensified," he said.
Laguerta added the parameters for an abnormal state of a volcano include: gas quakes (volcanic, harmonic) gas emission, edifice inflation, magma intrusion, and crater glow.
Seismic monitoring instruments recorded series of volcanic quakes on Saturday with 32 quakes, Sunday - 12, and Monday with 13 quakes,
he added, during a phone interview.
Instruments also observed moderate emission of white steam-laden plumes during the past 24-hour observation period, while sulfur dioxide emission was measured at an average of 441 tons per day during the past three days.

GPS and Tiltmeter measurements also indicate the continuous inflationary trend on the volcano's edifice.
Meanwhile, Cedric Daep, executive director of the Albay Public Safety Emergency and Management Office (Apsemo), said Monday that they are reiterating their pre-disaster advisory to residents and visitors to refrain from entering the six-kilometer radius Permanent Danger Zone due to sudden rockfalls, landslides, avalanches including ash puffs and steam-driven or phreatic eruptions from the volcano's summit.
He also warned villagers living along river channels and lahar prone areas surrounding the volcano to be on alert for possible flooding and lahar flows in times of prolonged heavy rains.
Daep stressed the importance of having an updated listing of the affected population in the danger zones in order for Apsemo to be prepared to undertake proper evacuation procedures when the need arises.
The 2,460-meter high Mayon Volcano last erupted on September 18, 2014.