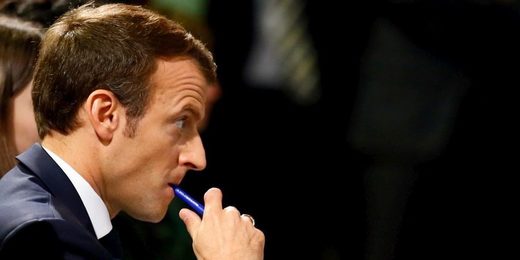 French President Emmanuel Macron knows how to play the press.
While he is faced with criticism from the left for his labour reforms, criticism from the right for his tax reforms and union strikes in the streets
, this week the French news was dominated with two Macron moments that prove the President is very popular indeed and can simply rise above it all by saying something funny.
On an overseas trip to the territory of French Guiana this week, he joked that he could clearly smell some marijuana and said: "
I still have a nose. So, there are some of you who do not only smoke cigarettes, huh?
", as the crowd greeted him with laughter. After that he posed for photos with locals in the Crique neighbourhood of capital Cayenne on Friday night.
"That will not help with your schoolwork. You have to tell the youngest!" he said.
Macron wrapped up his 48-hour visit to the impoverished South American territory yesterday. He had created a small storm on the territory by explaining at his arrival that he was 'not Father Christmas' and that he couldn't offer any magical solutions to combat the 23 percent unemployment Guiana faces.
And earlier this week, the French press was all over his adopted Elysée Palace (The French White House)

meanwhile his dog, called Nemo, barged in during a meeting with his ministers before peeing on the fireplace
, creating a very laughable moment indeed.
You can hear one of his ministers asking President Macron: "does that happen often?"