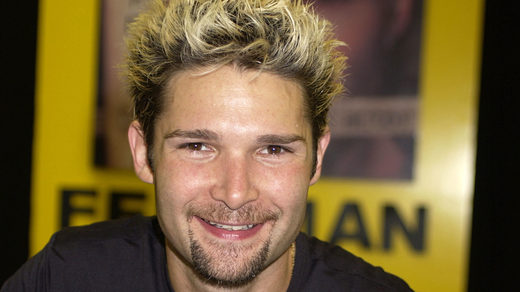 One of the big lessons from the Harvey Weinstein scandal is the number of victims who weren't believed. Model Zoë Brock said Weinstein chased her around a hotel room naked, begging for a massage. It was 1997, and "no one believed my story," Brock said. Angie Everhart said no one believed her when she
recounted Weinstein barging into her guest room on a yacht
, blocking her door and masturbating to completion. For quite some time, no one believed Rose McGowan's tweets that
heavily implied Weinstein raped her
.
So: If "Believe the victim" is, in fact, the lesson here, why won't anyone believe Corey Feldman?
For years, Feldman has been adamant that he and childhood friend Corey Haim were victims of molestation in Hollywood, and that predators remain. Yet he's been treated as though he's reporting alien abductions. Feldman may have been easily dismissible from a career standpoint - even he's admitted so - but his accounts have never wavered. Still, his story has been treated with dubiousness if not outright contempt.
Look at a 2013 clip from "The View."
A sad, calm Feldman tells Barbara Walters, "I'm saying . . . the people that did this to both me and Corey, that are still working,
they're still out there and they're some of the richest, most powerful people in this business
. And they do not want me saying what I'm saying right now."
Walters fairly clutches her pearls. "Are you saying that they're pedophiles?" she asks.
"Yes," Feldman says. As he went on to warn parents of hopeful children, Walters chastised him.
"You're damaging an entire industry!" she said.
Yes, Corey Feldman makes the painful public pronouncement that
he and Haim were molested repeatedly
, plenty in Hollywood knew, that it still goes on, and Walters defends an industry that still reveres Woody Allen and Roman Polanksi.
Would anyone talk to a female rape victim like that? Will anyone listen to Feldman now?
As recently as 2016, Feldman
testified to The Hollywood Reporter
that he and Haim were repeatedly molested as child stars.
"All these men were all friends,"
Feldman said of the perpetrators. "Ask anybody from our group of kids at that time.
They were passing us back and forth to each other
."
Feldman also detailed such abuse in his 2013 memoir "
Coreyography
," and he and Haim addressed it on their A&E reality show "
The Two Coreys
."
Feldman has said Haim's experience was worse. "He had more direct abuse than I did," he told
THR
. "With me, there were some molestations, and it did come from several hands, so to speak, but with Corey, his was direct rape."
In his book, Feldman writes that Haim was raped at age 11 on the set of the 1986 film "
Lucas
," which co-starred up-and-comers Charlie Sheen and Winona Ryder.
"The man who had stolen his innocence," Feldman writes, " . . . walks around now, one of the most successful people in the entertainment industry, still making money hand over fist."
For legal reasons, Feldman says he cannot name names. "Unfortunately California conveniently enough has a statute of limitations that prevents that from happening," he told
THR
, adding that the onus is on lawmakers to rectify that - "especially because this is where the entertainment industry is and this is a place where adults have more direct and inappropriate connection with children than probably anywhere else in the world."
In 2014,
director Amy Berg struggled to find distribution for "
An Open Secret
," her documentary about rampant pedophilia in Hollywood
. For her 2006 doc "
Deliver Us From Evil
," uncovering the very same crimes in the Catholic Church, Berg won an Oscar nomination.
This is yet another damning example of Hollywood's hypocrisy -
anything going on in their own back yard, no matter how depraved, must be tolerated and covered up for image and profit
. Still, the town collectively bellows about morality and social justice to the rest of us.
To wit: In 2014, SAG-AFTRA threatened to sue Berg over "
An Open Secret
" unless she cut all references to the union's Young Performers Committee, along with most of her interview with one of Hollywood's most vocal watchdogs. It's clear why SAG-AFTRA was alarmed: In her doc, Berg reveals that convicted child molesters still openly work in Hollywood, with children, today.
"I don't think anyone takes it very seriously," Berg told
Elle
in 2014 of child predation.
"I think the industry has accepted it as industry standard."
"It's shocking," Berg's co-producer Matthew Valentinas said. "Animals have more protections and rights on a film set than children do."
Berg stood up to SAG-AFTRA, but unsurprisingly, her film never gained traction -
no streaming service, no cable outlet would pick it up
. "
An Open Secret
" - a pirated, pre-commercial version - appeared on YouTube, where it has since racked up over one million views. As Berg's film made headlines, Elijah Wood, himself a former child star, said that if not for his protective mother, he too could have been a victim.
"I've been led down dark paths to realize that these things probably are still happening," Wood
told the Sunday Times of London
last year. "If you're innocent, you have very little knowledge of the world and you want to succeed. People with parasitic interests will see you as their prey."
Wood, who later walked back these statements, compared Hollywood's child sex abuse problem to the UK's scandal involving late TV host Jimmy Savile, alleged to have sexually abused nearly 600 people, young children among them, over a period of 50 years.
Wood said that since "victims can't speak as loudly as people in power,"
child abuse in Hollywood will continue unabated
. Unless, of course, Feldman is publicly joined, as Rose McGowan was, by other victims of the famous and powerful.
Some are already approaching that line. Prominent actresses who've come forward since the Weinstein scandal broke aren't all describing sexual harassment: A few are describing sexual assault as minors. This week, Reese Witherspoon said a director sexually assaulted her when she was 16.
"I wish that I could tell you that was an isolated incident in my career, but it wasn't," Witherspoon said.
Molly Ringwald
wrote in the New Yorker
that at age 13, "a 50 year old crew member . . . push[ed] against me with an erection," and at age 14, "a married film director stuck his tongue in my mouth on set."
It's only a wonder there aren't more broken child stars. The ones in our midst, mocked on our celebrity gossip blogs and in our Facebook feeds, likely deserve our compassion, not our contempt. Anne Henry, who co-founded the Hollywood child advocacy group BizParentz, told the
Sunday Times of London
that about 75 percent of child stars gone crazy had suffered industry abuse.
"This problem has been endemic in Hollywood for a long time," she said, "and it's finally coming to light."
Not soon enough.
Corey Haim died on March 10, 2010. He was 38 years old. His cause of death was pneumonia, but Feldman believes the abuse Haim suffered, his lifelong attempts to self-medicate with hard drugs, and the industry's callous disregard for their most vulnerable are to blame. After Haim was omitted from the Oscars' "In Memoriam" tribute, Feldman came forward in 2011.
"I can tell you that the No. 1 problem in Hollywood was and is and always will be pedophilia," he told Nightline. "That's the biggest problem for children in this industry . . . It's the big secret."
Maybe Harvey Weinstein isn't so crazy to think he has a second chance. Hey, at least he's not a child molester. And if Hollywood lets child molesters work unfettered - Polanski's currently filming a documentary about his own sad childhood, sure to be lauded - why not Harvey Weinstein?