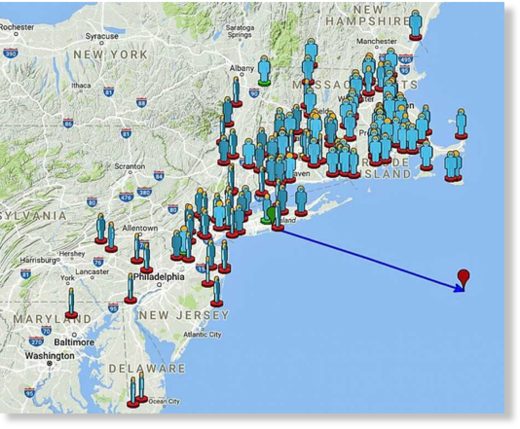 A bright daytime fireball was seen over the skies of Connecticut on Wednesday afternoon.
The American Meteor Society says the likely path of the meteor was southeast of Long Island over the Atlantic Ocean.
"The AMS has received over 130 reports so far about of a daytime fireball event seen above New York State on October 18, 2017 around 3 p.m.," it said.
"The fireball was seen primarily from New York and New Jersey, but was also seen from Connecticut, Delaware, Rhode Island, Pennsylvania, Massachusetts, Maryland and New Hampshire."
A fireball is another term for a very bright meteor, generally brighter than magnitude -4, which is about the same magnitude of the planet Venus as seen in the morning or evening sky, according to AMS. "A bolide is a special type of fireball which explodes in a bright terminal flash at its end, often with visible fragmentation."
The fireball came at the time of the Orionids meteor shower. The shower will peak late Friday into very early Saturday morning with up to 20 meteors an hour. Look for the constellation Orion (the Hunter) in the southern sky.
In Connecticut, there were more than 30 fireball sighting reports filed to AMS.
The fireball was reported seen in over Norwalk, Trumbull, Stratford, Milford, West Haven, Danbury, New Milford, Southbury, Woodbury, Torrington and Middletown.
In Danbury, "it looked like a green and yellow road flare that's how bright it was," Robert B.'s report to the AMS said. "I couldn't believe it and another person I was with saw it as well."
"Very clear skies, no clouds at all, really caught my attention as I was driving," reported Scott C, of Milford. "Very bright white ball with multi colored long burning like tail."
Kayla B's report from West Haven said "gorgeous green color, almost turquoise. very intense."
In Waterbury, Mark M reported "I was driving southbound on route 8 in at 3:00 in the afternoon. The sun was shining bright and still the object was very bright and silver in appearance."
"It was a quick green flash; went small, big, then small again in matter of 2 seconds," reported Brandon A. of Montville.
In Mansfield, Nick C. reported "big green jet, looked like Avada Kedavra spell from Harry Potter."
Sighting reports came from as far south as Maryland and to the north, from Portsmouth, N.H.
"This was the brightest most spectacular meteor/fireball I have ever seen and my first daytime sighting," wrote Kevin O from Parsonsburg, Maryland. "Also witnessed by my 25-year old son who was with me. I regularly watch the night sky and meteor showers."
To be seen in daylight a meteor must be brighter than about magnitude -6 to be noticed in a portion of the sky away from the sun.
The AMS says "several thousand meteors of fireball magnitude occur in the Earth's atmosphere each day. The vast majority of these, however, occur over the oceans and uninhabited regions, and a good many are masked by daylight. Those that occur at night also stand little chance of being detected due to the relatively low numbers of persons out to notice them."
It added, the brighter the fireball - like the one seen on Wednesday afternoon - the more rare is the event.