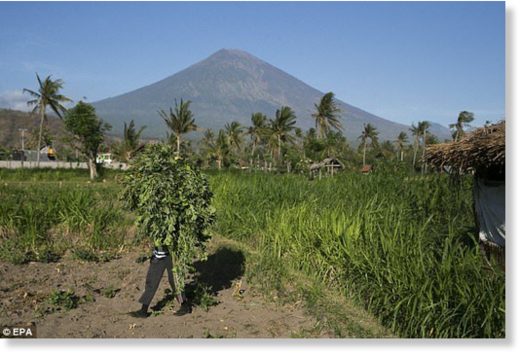 There are fresh fears that Bali's Mount Agung could erupt after the volcano reached peak earthquake activity today.
Up to 1,000 tremors have been recorded in the area each day,
with the frequent movements indicating a flow of magma towards the surface,
Perth Now
reports.
It comes as Indonesia's Mount Sinabung erupted on Sunday,
causing evacuations and spewing ash half a kilometre into the air.
The activity at Mount Agung is being closely monitored by airlines, with travel to Bali expected to be severely affected should an eruption occur.
An emergency operations centre has been set up at Bali's International Airport, with travel insurance companies also imposing restrictions on policies in the wake of the warnings.
Disaster Mitigation Agency spokesman Sutopo Purwo Nugroho said the volcano is 'very dangerous' and could explode anytime.
Around 140,000 people have already fled from the area, with its last eruption in 1963 killing more than 1,100 people.
Meanwhile, the eruption of Mount Sinabung 3,000 kilometres away has caused the evacuation of thousands.
The volcano began erupting in 2010 after lying dormant for four centuries and has been on high alert since 2015.
In May 2016 a large eruption from the mountain, which is one of Indonesia's 129 active volcanoes, killed seven people.