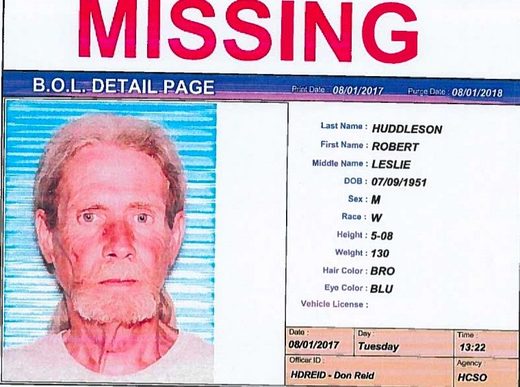 Bow season begins Friday and as anticipation builds for the upcoming deer season, bow hunters in the Mark Twain National Forest at AD and CC Highways and on the west bordered by County Road 5150 are being asked to call the Howell County Sheriff's Department if they see something that doesn't seem right, Howell County Criminal Investigator Don Reid said.
No signs have been found of the missing Robert L. Huddleson, 66, of County Road 5150, said Deputy Shannon Caldwell and Reid. It is believed Huddleson, missing since July 30,
disappeared in the forest as he routinely walked the main trails in the Mark Twain, at least four to six miles a day
, according to Caldwell.
The victim's brother, John Huddleson, of St. James, reported his brother missing at 8:44 a.m. July 30. Robert Huddleson was last seen at his home July 27.
Reid said Huddleson had planned to attend a family reunion and his father's 90th birthday that weekend in Rolla but did not show up. Reid said he was told Huddleson was excited about going to the reunion and seeing family.
After Huddleson was reported missing, officers went to his home and found his vehicle still in his carport and his golf clubs were still in his house. Huddleson often used his clubs at the West Plains Municipal Golf Course. Caldwell and Reid said
nothing was disturbed at the home and there were no signs of a break-in.
On July 30, firefighters from Pumpkin Center, Howell Rural District No. 1 and Pomona searched the area all day, with assistance of the sheriff's department, volunteers on horseback and ATVs and neighbors.
"Nothing turned up," Reid said.
During the following weeks, neighbors, volunteers and law enforcement have continued to search and the K-9 unit from Region 9 was brought in off of County Road 5150, north of Taber Creek, and searched that area.
Again nothing was found.
Caldwell said Huddleson did not carry a cell phone and used a walking stick, which was not found at his home, while walking in the Mark Twain. He was also seen regularly at the municipal golf course where he would play golf and walk the 18-holes.
Reid said officers learned Huddleson owned other property. That property has been searched and nothing found.
If hunters see something, they are asked to call the sheriff's department at 256-2544 or 911.