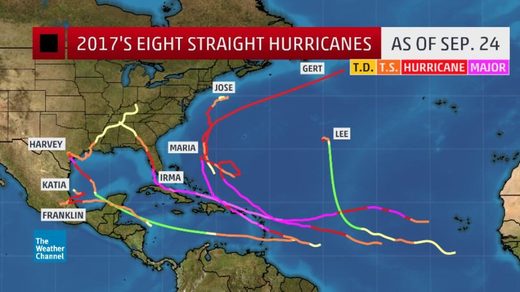 Hurricane Lee has become the eighth consecutive Atlantic hurricane of this year's hurricane season.
It's been more than 120 years since the Atlantic last encountered as many or more hurricanes as this in a row in one season
.
Hot on the heels of Hurricane Maria
, the 2017 hurricane season added another storm system into the mix when
Lee became the eighth consecutive hurricane to manifest in the Atlantic basin Sunday morning, which hasn't happened in the same hurricane season since the 1800's.
Hurricane Lee and Hurricane Maria continued churning in the Atlantic on Sunday, but neither posing a substantial threat to land, according to the National Hurricane Center.
On Sunday evening the hurricane was lingering far away from land, with the eyewall of the storm system nearly 900 miles away from the coast of Bermuda.
Lee remains a Category 1 hurricane as it travels eastward at 3 mph.
This year's line-up began with Franklin, forming on August 9 to become the first named hurricane of the season.
During the weeks that followed,
three of the eight hurricanes including Harvey, Irma, and Maria reached category 4 status and all made landfall - a record first.
Tropical storm Harvey hit Texas as a category 4 hurricane in August, piling rain in places more than any other cyclone measured on the continental United States.
Throughout Irma's development, the destructive eyewall of the storm maintained intensity above 180mph longer than any other storm in Atlantic history - making it one of the most powerful Atlantic storms ever recorded.
So far this year, there have been a total of seven hurricanes and 13 named storms, with potentially even more to come.
On average an entire Atlantic hurricane season, which starts June and ends in November, usually equates for only six hurricanes.
However this year's hurricane season is predicted to be the most active since 2010, according to the NOAA, which could potentially have a
knock-on effect on the UK's weather front throughout autumn
.
Dr. Dave Reynolds, senior meteorologist of The Weather Channel, said when tropical storm and hurricane remnants reach our latitudes, some have the potential to cause very wet and windy conditions.
He added: "It's certainly possible that we will get the remains of at least one, if not more, tropical storms and hurricanes between now and the end of November."