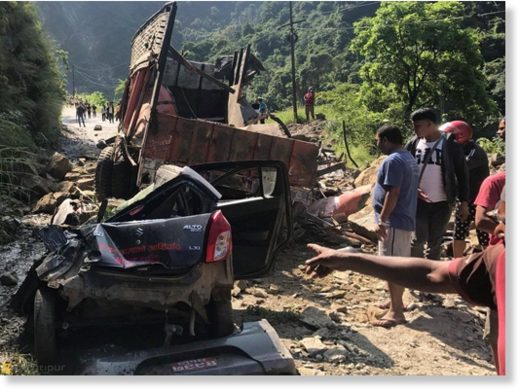 A landslide in the Siddababa section of the Siddhartha Highway buried a truck and a car in Palpa district on Saturday, killing three persons. Another person sustained injuries.
The car (Lu 1 Cha 7994) and the truck (Na 3 Kha 6191) were buried under a landmass. Police identified the deceased as Yam Bahadur Gyawali and Tilakram Bhandari of Gulmi and Madhav Rana of Tinau in Palpa. Gyawali and Rana were the drivers.
Forty-two-year-old Radha Bhandari, a car passenger, of Gulmi was injured. The incident happened a few minutes after security personnel cleared another landslide that occurred earlier. According to the District Traffic Police Office, transportation was disrupted for about nine hours.
Siddababa on the Tansen-Butwal section is a landslide-prone area. A number of mudslides occur in the area every year.
Source: The Kathmandu Post