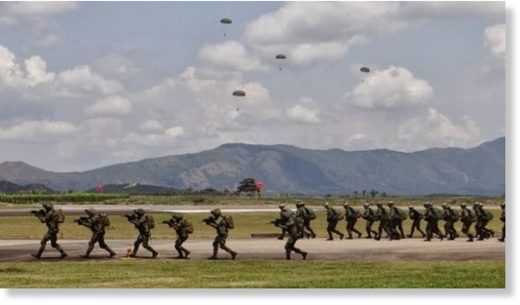 Translation by Tortilla con Sal.
As Southern Command chief Admiral Kurt Tidd put it, "The growing humanitarian crisis in Venezuela could make necessary a regional response."
The military option against Venezuela mentioned recently by President Donald Trump has been active since even before he made his remarks. In an unconventional warfare scenario, conventional military action as such is not to be expected. The Petri dish nutrient is "humanitarian crisis" cultured by agents of anti-Chavismo both nationally and internationally.
Unusual and extraordinary military exercises
The number of U.S.-led military exercises is growing all the time covering various aspects of warfare, but it is noteworthy that
the "humanitarian" component is always present
, even when the substantive contribution of U.S. armed forces in dealing with natural disasters with tragic consequences is unknown. What happened in Houston, Texas, is just one example.
A
combined exercise
was held last June in Barbados "to improve the collective ability of defense forces and police to counteract international organized crime and carry out humanitarian relief/disaster operations." Based in Barbados' capital Bridgetown, this international exercise in maritime security and disaster response, titled, "Caribbean Tradewinds 2017," involved 20 countries, including Mexico.
UNITAS 2017, the world's biggest ever international maritime exercise, ended in July, during which
naval
and other forces from 19 countries
met in Lima, Peru, including Brazil, Paraguay, Argentina, Chile, Colombia, Guatemala, Honduras, Panama, Mexico, Spain and the United States.
The U.S. forces were under the operational control of Sean Buck, chief of Task Force 138 involving U.S. Southern Command Naval Forces and the US 4th Fleet,
commanding 30 warships and 28 warplanes as well as various submarines and amphibious craft
, completing six live-fire exercises and 37 combined naval activities.
The military groups operated
in two phases
: UNITAS Pacific (naval war operations) and UNITAS Amphibious (humanitarian assistance and relief operations), which took place simultaneously so as to "maintain access, improve interoperability and build lasting relationships
to improve regional security
and promote peace, stability and prosperity in the Caribbean and Central and South America."
In addition, 42 pilots and crew, parachutists and logistic personnel of the Colombian Air Force took part in the
Mobility Guardian exercise
in July of the Air Mobility Command, the first international humanitarian operations exercise simulating contexts of warfare and natural disasters.
More than 650 military personnel from 30 countries, including Brazil along with 3,000 U.S. military personnel focused on four basic Air Mobility Command capabilities: air transport, aerial resupply, medical air evacuation and air mobility. The
U.S. Departament of Defense
reported, "The U.S. does not go to war without allies which is why it's important that Mobility Guardian develops the capacity to project power."
AMAZONLOG17 is the fourth military exercise carried out on the continent this year, a logistics operation in progress on the border between Brazil, Colombia and Peru, specifically in Tabatinga, in Brazil's Amazonas state.
The
Brazilian army's website
reports that these combined maneuvers of troops and agencies from the three countries will focus on humanitarian and environmental conservation activities. But they also have a commercial component,
consisting of a technology exposition for businesses from the security and defense sectors
, among others, of Brazil and other countries. The report makes clear the exercises will include 16 other countries as observers, as well as U.S. logistical support.
AMAZONLOG17 began with a planning exercise in Manaus between Aug. 28 and Sept. 1. From Sept. 26-28 there will be a Symposium on Humanitarian Logistics and a Military Materiel Exposition. The exercise itself will run from Nov. 6-13 with the installation of a Multinational Integrated Logistics Base in Tabatinga, to which equipment has been moved from Rio de Janeiro, 3,545 kilometers away.
Towards military base diplomacy
The axis led by Colombia, Mexico, Brazil and Argentina
established a non-diplomatic strategy of aggression against Venezuela's government
, made public with the so-called Lima Declaration.
That diplomatic facade was the culmination of a framework of action that started with moves in the Organization of American States failing to get majority support for intervention via the Inter-American Democratic Charter.
The Lima Declaration came a week after elections to Venezuela's National Constituent Assembly.
The foreign ministers of Argentina, Brazil, Canada, Colombia, Costa Rica, Chile, Guatemala, Honduras, Panama, Paraguay and Mexico signed a document asserting that Venezuela "is no longer a democracy" but declaring "energetic rejection of violence and any option involving the use of force."
Even though regional mechanisms exist like the Community of Latin American and Caribbean States and the Union of South American Nations, the countries concerned produced an informal document in which they agreed not to support the candidacy of Venezuela for any regional or international organization or mechanism.
Furthermore, they called for a cessation of arms supplies to Venezuela based on Articles 6 and 7 of the Arms Trade Treaty. That suggests the military exercises already described amount to preparation by this group of countries for a non-diplomatic phase for which weakening Venezuela's Bolivarian National Armed Forces is important.
It is no accident that each of the U.S.-led military exercises includes the same countries that signed the Lima Declaration. U.S. military presence in Mexico, Colombia, Peru, Honduras and Brazil is long-standing. In Mexico's case, one is dealing with an escalation of U.S. military intervention that started with the signing of the
North American Alliance for Security and Prosperity
and Plan Merida
under the pretext of the "war on crime."
Mexico's subordination and integration into U.S. military plans are combined with the supply of arms to organized drugs trafficking, all of which generates profits for the U.S. military-industrial complex.
In 2016, in Peru, U.S. Southern Command and Peru's Partenon Contratistas E.I.R.L. company agreed on a contract for a
project to install
a Regional Emergency Operations Center in Peru's Amazon region.
This COER is what
analysts consider
to be military intervention disguised as humanitarian aid
. Also well known is the increase in joint military exercises between the U.S. and Peru "to strengthen defense strategies against external aggression." One of those exercises is Silent Force, held every two years in Peru's Grau Sea.
In addition, the U.S. military bases in Colombia are components of a U.S. "strategic insurance" plan in South America. Likewise, in 2015 the U.S.
increased its military presence
in the Soto Cano air base in Honduras, from where it organized multilateral exercises together with Joint Task Force Guantanamo, from the U.S. base at Guantanamo Bay in Cuba, in charge of "detain and interrogate" operations in the war on terror and with the Joint Interagency Task Force South, based in Key West in Florida, which coordinates "anti-narcotics operations" throughout the region.
The risk of this kind of military intervention for the existence of nation-states is self-evident, as it is for Latin American sovereignty and stability.
In Colombia's case, writers Diane Lefer's and Hector Aristizabal's analysis is that these military interventions do aim at destabilizing the region. They note,
"Indeed, South American countries have had frontier skirmishes and brief armed conflicts, but the important presence of U.S. military bases in Colombia creates a scenario for what could be a major continental war."
The humanitarian pretext as fuel for the fire
While the Colombian authorities and media fabricate incursions into their territory by Venezuelan security forces, on Aug. 27 in Venezuela's Tachira state, Venezuelan forces confronted Colombian paramilitaries of the Los Rastrojos criminal group, leaving six paramilitaries dead and one detained along with Colombian army ammunition and uniforms with military rank and insignia. Los Rastrojos and other groups work together to exercise political and economic control along the frontier area.
Mision Verdad
has described
how these paramilitaries fit into an intensification of provocations directed by the United States.
International corporate media and governments hostile to Venezuela take up the "humanitarian crisis" fable to consolidate the portrayal of military intervention as an exercise in humanitarian relief rather than as military aggression.
But very clearly, every "humanitarian intervention" by Western powers involves territorial occupation and reorganization to serve their geopolitical interests, similar to what happened in Haiti after the January 2010 earthquake.
The facade of "refugee camps" would serve to facilitate "secure zones" protected and supported by foreign military forces who would "safeguard the population under threat from the dictator Maduro."
This is what happened in far away Libya and Syria.
Analysts
like
Manlio Dinucci argue
that Donald Trump's threat of a "military" option could take the form of "special forces and mercenaries that throw fuel on the fire of internal tensions
by provoking armed confrontation
; or of accusations that the government is massacring its own people requiring a 'humanitarian intervention' justifying the creation of a military coalition led by the United States."
The scenario that would revive the Democratic Unity Roundtable opposition parties in Venezuela is total socioeconomic collapse leading to a humanitarian crisis, one of the intervention tactics being planned by the U.S. Southern Command. As Southern Command chief
Admiral Kurt Tidd put it
during a hearing in the U.S. Senate on April 6,
"The growing humanitarian crisis in Venezuela could make necessary a regional response."
The Trump administration's new round of financial sanctions against Venezuela and the recognition of U.S. leadership by the MUD provide real, concrete facts to be able to understand the true strategy. The measures against the state oil company, PDVSA are an extension of the economic siege directed from Panama, Bogota, Madrid and Miami via the exchange rate mafias on Venezuela's border, the ratings agencies and the financial and commercial monopoly oligarchs promoting social chaos in Venezuela.