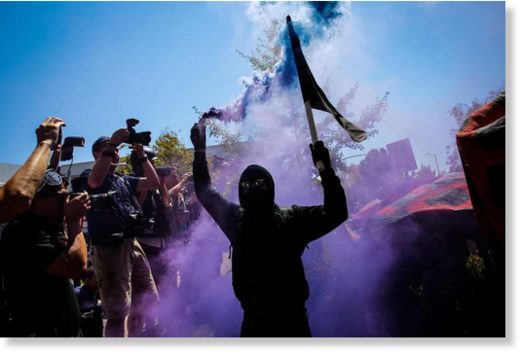 An army of anarchists in black clothing and masks routed a small group of right-wing demonstrators who had gathered in a Berkeley park Sunday to rail against the city's famed progressive politics, driving them out - sometimes violently - while overwhelming a huge contingent of police officers.
Hundreds of officers tried to maintain calm in and around Martin Luther King Jr. Civic Center Park before the 1 p.m. "No to Marxism in Berkeley" rally, putting up barricades, searching bags and confiscating sticks, masks, pepper spray and even water bottles. The goal was to head off the type of clashes that sprang from similar rallies in the city earlier this year.
But once again, counterdemonstrators frustrated efforts by police, who numbered about 400.
As the crowd swelled to several times that size, officers stepped aside and allowed hundreds of people angered by the presence of the right-wing rally to climb over the barriers into the park
, said Officer Jennifer Coats, a spokeswoman for Berkeley police.
The masked counterprotesters, often referred to as antifa or antifascists, significantly outnumbered the people who had come for the rally, many of whom wore red clothing indicating support for President Trump. The anarchists chased away the right-wingers, and in one case four or five
pummeled a man with fists and sticks
before a radio host for Reveal, Al Letson,
jumped in to shield the victim
. Anarchists also attacked reporters who documented their actions.
By the time the confrontations wound down in midafternoon, police had arrested 13 people, including one for assault with a deadly weapon, Coats said. Most were accused of bringing banned items into the park. Six people reported non-life-threatening injuries, Coats said, including two taken to hospitals.
In one of many incidents caught on video, police protected Joey Gibson, the leader of the conservative group Patriot Prayer, who had canceled a rally Saturday at Crissy Field in San Francisco after city leaders criticized the event plans as inciting white nationalists.
The
footage shows that Gibson backed away
from a mob of black-clad aggressors who swore, hit him with a stick and shouted, "Fascists go home!" Gibson leaped over a concrete barrier before being chased into the embrace of riot-gear-clad cops.
The violence in the park remains under investigation, and police asked witnesses to report all injuries and submit any videos. After past protests, videos helped police make arrests, Coats said.
Saturday had been a day of mostly peaceful antihate demonstrations across San Francisco. But Sunday was different in Berkeley.
"We're just puzzled as to why people consider violence a valid tactic," said Kristin Leimkuhler, 60, of Berkeley, who with a group of neighbors left the protests when they turned chaotic.
"We felt disappointed and surprised by how many people were not in any way discreet about being with antifa - in fact being very bold and prepared to be violent."
Like Leimkuhler, thousands of people who came out to oppose the right wing rally had no connection to the anarchist mob. Instead, they came to voice opposition to Trump's policies, which many people said had buoyed white nationalists across the country.
"No Trump, no KKK, no racist USA!" crowds chanted early in the day at Civic Center Park.
Hundreds of mostly local residents converged at Berkeley's Ohlone Park to oppose hate speech, racism and white supremacy. They carried signs reading "Berkeley stands united against hate," "Queers against hate" and "End white supremacy."
"It's important for people to show up and make it unacceptable for right-wing white supremacists to spew hate and incite violence," said Jeff Conant, 50, of Berkeley, who helped organize the antihate rally.
He praised Saturday's "tremendous victory in San Francisco" and said Sunday was about "galvanizing a movement to oppose white supremacy and the structures that support it."
Berkeley had denied a permit to the organizer of the anti-Marxist rally, Amber Cummings, saying her application had been late and incomplete.
Cummings later asked supporters not to show up because she feared violence.
The swamping of right-wing political ideas by left-wing demonstrators has become a recurring theme in Berkeley and other California cities. The tension rose Aug. 12 when a Nazi sympathizer allegedly drove his car into a crowd in Charlottesville, Va., that had been protesting a white supremacist rally, killing 32-year-old Heather Heyer and injuring 19 others. Trump blamed the violence in Charlottesville on "many sides."
A week later, on Aug. 19,
left-leaning demonstrators dwarfed a right-wing rally in Boston.
In Berkeley on Sunday, some observers derived satisfaction from watching far-left protesters beat up and chase off a young man at the rally in apparent support of Trump.
"It's a good time," said Tom Martell, 70, of Crockett, who stood in Civic Center Park with his girlfriend, Lisa Argento, 53.
"They've got to be chased out," Argento said. "I moved to the Bay Area and pay good money to live here. I don't want these people here. They need to leave us the f- alone."
Argento said she has mixed feelings about ignoring members of the political right who rally to drum up support for their views.
"What are we waiting for?" she asked. "They already hold the White House. They are already dragging people away in the middle of the night."
But others thought the actions of the masked counterprotesters were shameful.
"What hypocrites," said Linda Fuentes Rosner, 69, a Spanish-language interpreter from Vallejo, who glared at a group in the park chanting anti-Trump slogans. "They don't know what they're talking about. You think it's OK that a Trump supporter gets beat up? It's embarrassing. The left has prevented the right from speaking. That's not American, that despotism.
"

Comment: Exactly. Yet so few participants or observers to these events are able to see this, or comment on it articulately.


A Republican, Fuentes Rosner came to Berkeley for a conservative meet-up that didn't happen.
Organizers told her that the small group left because it felt intimidated.
Jay Pino, 23, said he came to Berkeley from New Mexico to protest the right-wing rally, but peacefully.
"This doesn't have to be about violence," he said. "The aggressive people here, I get it. It's hard to express their anger, and it's also hard to keep it in. I'm here to try to keep the peace.
No matter how bad the other side is, we have to pray for them as well
."