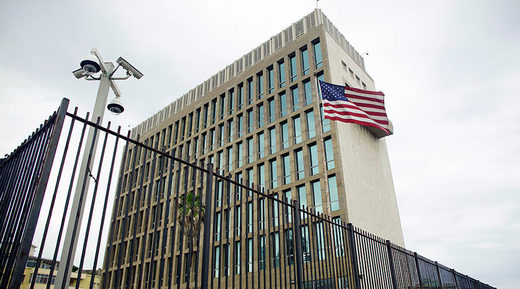 Diplomats stationed in Havana, Cuba, have suffered a number of strange ailments that have caused many to leave the country with permanent physical damage. Officials are reportedly investigating whether the symptoms were caused by sonic attacks.
A doctor in the US has reportedly evaluated American and Canadian diplomats who were stationed in Havana, Cuba, and diagnosed them with conditions as serious as mild traumatic brain injury and likely damage to the central nervous system, according to medical records obtained by
CBS News
.
The diplomats reportedly complained about a range of symptoms from headaches to hearing loss and balance disorders, a source familiar with the incidents told CBS News, adding that diplomats in the country continue to be affected with similar symptoms.
Officials are reportedly investigating whether the symptoms were caused by a sonic attack directed at their homes. The medical records purportedly show the diplomats underwent several tests, including comprehensive audiological evaluations.
One source told the
Associated Press
that investigators are specifically looking into whether elements of the Cuban government placed sonic devices that produce non-audible sound inside or outside the residences of roughly five US Embassy staffers, with the intent of deafening them.
Two senior US government officials told
CNN
that more than 10 US diplomats and their family members received treatment for similar ailments. Two diplomats suffered long-term injuries, including hearing loss. They were unable to return to Cuba and many others have decided to leave, the source added.
Physicians at the University of Miami Health System told CBS News that they were consulted by the State Department about the patients.
"Like any top-notch academic medical center in the nation, the University of Miami is often consulted regarding complex health care issues or emerging diseases. In the case of U.S. diplomats, our physicians were consulted by the State Department," the university said.
At a
press briefing
on August 10, State Department spokeswoman Heather Nauert confirmed that diplomats suffered "a variety of physical symptoms" after they were affected by "incidents" that began in 2016.
However, Nauert did not provide any details, citing an active and ongoing investigation to "determine the actual cause of their situation."
"When I say an active investigation is under way, in part what that means is we don't know exactly where this came from," Nauert said. "We can't blame any one individual or a country at this point yet."
Nauert said the US has been in "regular contact" with the Cuban government about the incidents.
In May, the US expelled two Cuban diplomats after reminding the country of its international obligations to protect diplomats under the Vienna convention.
Secretary of State Rex Tillerson told reporters that the US government would hold Cuban authorities "responsible for finding out who is carrying out these health attacks," according to CBS News.
The Cuban Foreign Ministry said it has also opened an investigation into the US accusations from the US Embassy in Havana.
"Cuba has never, nor would it ever, allow that the Cuban territory be used for any action against accredited diplomatic agents or their families, without exception," the Foreign Ministry said in a
statement
.
There have not been any statements from the Cuban Foreign Ministry on the most recent diagnosis.
In June, President Donald Trump
said
he was reversing "the last administration's completely one-sided deal with Cuba."
Trump then imposed several restrictions on travel to Cuba, but left the newly-established embassies in Washington and Havana open "in the hope that our countries can forge a much stronger and better path," he said in June, adding that he will "expose the crimes of the Castro regime."