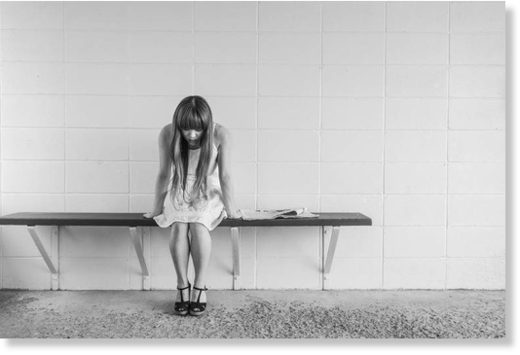 A new analysis from the Centers for Disease Control and Prevention found that
the rate of suicide among teenage girls hit a 40-year high
in 2015.
Between 2007 and 2015, suicide rates for teenage boys and young men increased by over 30 percent and doubled among girls.
Struggles with suicidal ideation is something that Za'Kiyyah Abdullah Whitfield knows all too well.
Whitfield told ABC6 that
she endured bullying for years
because she is Muslim - and that the torment she endured worsened her depression and anxiety.
To cope with those emotions, the 17-year-old said she "started cutting and burning" herself.
"It made me feel like I could take the pressure head on, and I could just come home and do that later," she said. "So, it felt like my comfort zone."
Now homeschooled, the teenager from West Philadelphia began a foundation where she speaks at local schools to help young teens overcome their own suicidal thoughts.
"When I tried to kill myself three times. I realized that this was not OK, this is not normal. I need help," she said. "Don't feel like you're alone. I felt like I was alone and I overcame it with my mom's help. ... There are people that are out there who will listen to you, I will listen to you."
The government has tracked numbers on suicide rates since 1975. In 1975, the suicide rate among females aged 15 to 19 sat at 2.9 per 100,000 before it increased to 3.7 per 100,000 in 1990. It then fell to 2.4 per 100,000 in 2007 before peaking at 5.1 per 100,000 in 2015.
For young men, the suicide rate declined from 18.1 per 100,000 in 1990 to 10.8 per 100,000 in 2007 before reaching 14.2 per 100,000 in 2015.
According to the CDC, 5,900 kids and adults aged 10 to 24 died by suicide in 2015.
Carl Tishler, an adjunct associate professor of psychology and psychiatry at the Ohio State University, said to CNN that
the increase in suicide rates among older teens could be attributed to multiple factors
- but added that it is probably a combination of reasons.
"Some of the opiate or heroin overdoses in adolescents may be interpreted by emergency departments as suicides. There may be more internet suicides," Tishler said, adding that substance abuse, exposure to violence and social isolation could also increase the risk of suicide.
Another reason for the increase could be lingering effects from the Great Recession.
"One of the factors that people have talked about as potential contributor to the trend is the economic downturn that we saw in 2007-2009," CDC suicide expert Thomas Simon
said to NBC News
. "As economic problems go up, suicide rates go up."
The advent of smartphones could also be partially to blame. A survey from the National Institute on Drug Abuse found that eight-graders who spend more than 10 hours a week on social media
are 56 percent more likely to say they are unhappy
then their peers who visit such platforms less often.
Those who just spent six to nine hours a week on social media were 47 percent more likely to report being unhappy.
If you suspect someone might be struggling with suicidal thoughts, Simon said "it is important to not leave that person alone." Potential warning signs for suicide include: talking about feeling trapped, behaving recklessly, becoming socially isolated and acting anxious.
"The message for parents, teachers, coaches and religious leaders is to not be afraid to talk to a young person when they are concerned," Simon said.
You can
contact the National Suicide Hotline
at 1-800-273-8255.