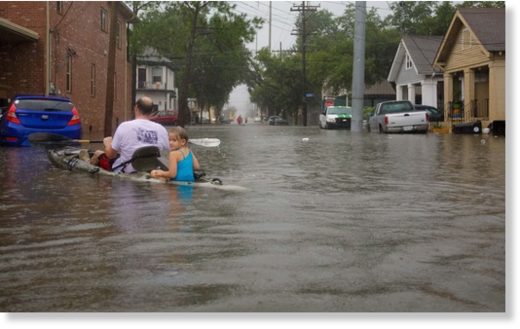 Heavy rainfall caused flooding throughout much of the New Orleans area Saturday afternoon, prompting the National Weather Service to issue a flood warning that stretched into the early evening for New Orleans, Metairie, Kenner, River Ridge, Harahan and Waggaman.
Dozens of streets were reported to have flooded during the pounding rains, which began between 2 and 3 p.m. and continued throughout the afternoon.
WWL-TV estimated nearly 5 inches of rain fell over downtown New Orleans and Mid-City by 5 p.m., with Gentilly receiving more than 3 inches.

The weather service said its downtown observation post recorded 1.23 inches between 3 and 4 p.m. and 2.62 inches between 4 and 5 p.m., totaling 3.85 inches in the two-hour span.
Major flooding was reported in Lakeview near Robert E. Lee Boulevard and near West End and Harrison avenues. Several portions of Canal Boulevard near City Park and sections of Tulane Avenue, Banks Street, Canal Street and Orleans Avenue saw flooding that was waist-high at the deepest points.
For the second time in as many weeks
, the low-lying Broad Street Theater flooded as the cinema screened afternoon films. Just after 3 p.m., staffers warned patrons that the lobby and parking lot were filling up with water and they might want to check on their cars.
Outside, the water on North Broad Street rose quickly, swamping some parked cars.
Later Saturday, the theater's owners said via Twitter that the cinema was closing temporarily but would reopen soon.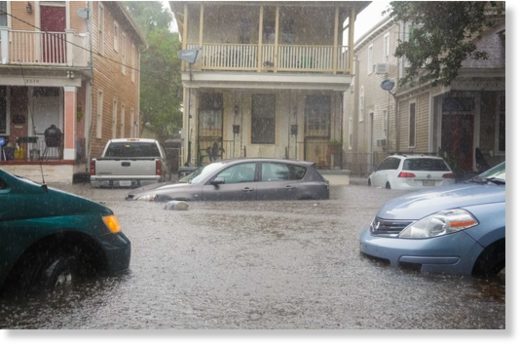 The Banks Street Bar, at South Alexander and Banks streets, remained open throughout the storm, with patrons doing their drinking in knee-deep water.
Mid-City resident Mark Summers, 30, said similar rains last month also flooded the neighborhood but that Saturday's downfall was much worse.
"This happened a few weeks ago, so we didn't think it would be that bad, but the second time was way worse. It's another day in New Orleans, I guess," Summers said.
Next door at Clesi's Restaurant, a wedding tasting was underway when the water started rushing in, reaching close to 3 feet.
"We were watching the rain and the water just started coming in fast," said employee Luana Perrotta. "Within 20 minutes the place was flooded. We had to jump through the window to get out."
Esplanade Avenue from North Claiborne Avenue to North Broad saw heavy flooding, as did several areas near Paris Avenue and Robert E. Lee Boulevard.
Even some streets in the French Quarter — an area that usually remains relatively untouched by floodwaters — saw flooding, including sections of Bourbon Street.
An employee at Felix's Restaurant and Oyster Bar, at Iberville and Bourbon streets, said several inches of water swept in off the street and flooded the bar area.
Laura Morgan, an employee at the nearby Backspace Bar & Kitchen, at Iberville and Chartres, said the bar flooded with roughly 2 to 3 inches of water for a little less than an hour.
"It settled down pretty quickly, but it came in and swept all the way to the back (of the restaurant)," Morgan said. "I've worked here four years and that's never happened."