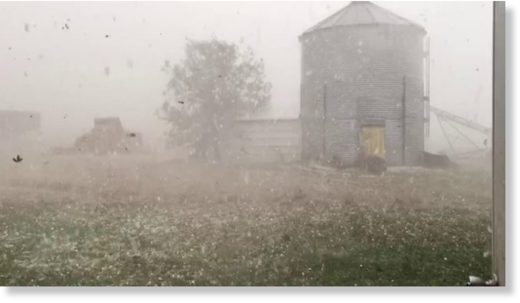 A fast-moving storm pummeled the small community of Newell on Tuesday night, blasting through buildings and devastating crops.
Wind, hail, and rain came in a flash, and the storm's ferocity took many of the area's residents by surprise. On Wednesday morning, piles of leaves, branches and debris littered the streets of Newell, a town of about 600 people about 25 miles east of Belle Fourche in Butte County. Windows were shattered and corn stalks stripped clean, bare stalks hanging limply.
Mayor Mike Keolker measured the rate of the rain at one point as 25 inches an hour. Officially, the total rainfall within the city was 1.46 inches at the Belle Fourche Irrigation District office. The highest wind gust was clocked at 92 mph before the guage broke.
Area farmers gave reports of fist-sized hail
and water-flooded fields. In a narrow strip south of Newell, fields were flattened.
The morning after the storm found Newell city crews piling branches and picking up debris along city streets and assisting Newell residents. Debris is being taken to the city campground, according to city worker Kurt Olson, anyone can bring branches and leaves. No plastic bags, though.
There was minor damage to the city offices, according to Keolker.
"We are working on getting things fixed," he said. There may be more damage reported in the future he added.
The community quickly banded together Wednesday to work toward repairing the damage. Butte County Sheriff Fred Lamphere contacted Dakota Lumber in Belle Fourche to bring pallets of plywood sheeting to Newell shortly after the storm had abated. As soon as Newell Hardware owner Julie VanDerBoom heard that a central place was needed to distribute the plywood, she and her husband, Troy, opened the doors and were available to aid anyone who needed the wood.
"We wanted to be sure the people who needed it, got it," she said.
Source: Butte County Post