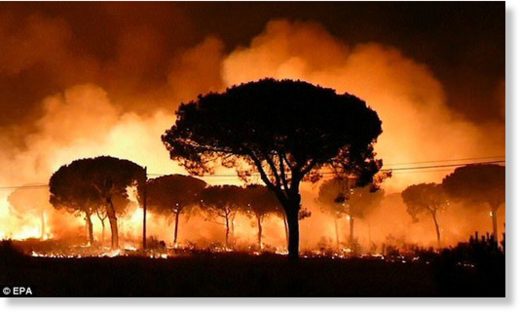 More than 2,000 people including holidaymakers at a hotel and campsite have been evacuated after a wildfire near a Spanish national park.
Tourists on two campsites in the Mazagon beach town area of Huelva in southwest Spain and a nearby parador hotel were still unable to return this morning as hundreds of firefighters tackled the out-of-control blaze.
Regional governors said around 2,100 people had been asked to leave their homes and holiday accommodation overnight, although guests at one of the hotels affected - the four-star Solvasa Mazagon Aparthotel - were back this morning.
The blaze is being treated as a level 1 - or maximum threat - by emergency services.
Emergency services have so far deployed 11 planes, 10 helicopters and dozens of land vehicles against the flames in a joint military-civilian operation.
It was not immediately clear whether any Brits had been caught up in the drama.
Psychologist Lucia Perez, 24, who lives in Mazagon, told how she saw people running along the beach with children in their arms screaming for help.
The local, who had to leave her home because of the fire, told a Spanish newspaper: 'What most struck me was seeing people running along the beach asking for help.
'They had children in their arms and were trying to reach safety.
'I took two children in my car who were very frightened. They told me they had come from an area near the beach that had been evacuated and the flames had reached the door of their house.'
The fire started around 9.30pm last night in an area of pine trees called La Penuela de Moguer.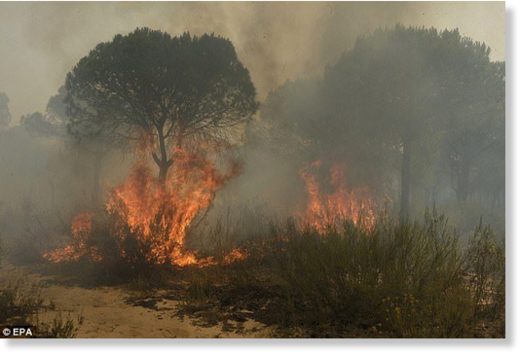 Strong winds helped to fan the flames overnight, leading to the spread of the fire to Donana Natural Space.
Donana Natural Space is made up of two different protected areas covering more than 300,000 acres, the National Park and the Natural Park which are both huge draws for tourists from Spain and abroad.
Firefighters were trying to ensure today the flames did not reach the main national park, with local authorities saying they were confident it could be avoided.
Around 200 people are currently battling the flames, on the ground and from the air.
Jose Fiscal, environmental councillor for the regional Junta de Andalucia government, said no lightning strikes had been detected in the area and everything was pointing to the fire being the result of human negligence or arson.
Most of the people evacuated are understood to have been put in temporary shelters at local sports centres.
The fire comes after devastating forest fires in Portugal last weekend which killed 62 people including several children.
No-one could immediately be reached by phone at Camping Donana or the Solvasa Mazagon Aparthotel today.
Donana is a complex mosaic of landscapes made up of land and water halfway between the provinces of Huelva, Sevilla and Cadiz.
The area, recognised as one of the most important wetlands in Europe, is popular with bird watchers from around the world as well as families and couples drawn to its fantastic beaches.
The number of people thought to have been evacuated overnight, around 400, rose sharply this morning as local authorities said 1,500 people alone had been ordered to leave one of the campsites in Mazagon called Camping Donana.