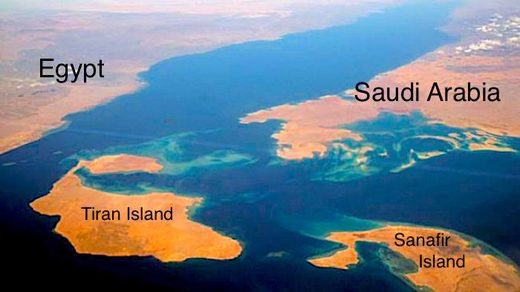 Following months of legal wrangling and public protests, Egypt's president approved the transfer of the isles of Tiran and Sanafir to Saudi Arabia, with opponents accusing the government of selling territory in exchange for Saudi subsidies.
"President Abdel Fattah el-Sisi has ratified the maritime demarcation agreement between the Arab Republic of Egypt and the Kingdom of Saudi Arabia,
" read a statement from the cabinet office. The handover of the two uninhabited islands, initially announced in 2016, was approved by parliament on June 14, amid heated scenes both inside and outside the chambers.
Cairo and Riyadh say the islands are located in Saudi territorial waters and were leased to Egypt in 1950, at the behest of the Saudi authorities, as Egypt was better placed to use the isles to control Israel. The two rocky outcrops guard the mouth of the Gulf of Aqaba, Israel's only access point to the Red Sea and all southern maritime trade routes.
The islands were occupied by Israel during two conflicts and were last returned to Egypt in 1978, as part of the Camp David Accords, the peace treaty between the two countries that endures to this day.
Opponents of the handover say the islands were first granted to Egypt by a treaty signed between the Ottoman Empire and the British Empire in 1906, at a time when modern-day Saudi Arabia did not even exist as a state.
They charge that Riyadh's claims came much later and say the handover was agreed following years of talks and, pointedly, forms part of a $23 billion aid and investment package signed between Saudi Arabia and Egypt in April last year.
Since then, lawyers have challenged the decision in court, with victories for both camps at various stages. On Wednesday, the Constitutional Court ruled that all previous legal decisions endorsing the transfer of the two islands are void. A lawyer arguing for the retention of the islands told the media that "the ruling signifies that the land is Egyptian... even if the president ratified the handover agreement"
Sisi, who came to power following the overthrow of the Muslim Brotherhood in 2013, has argued that the return is a matter of "constitutions and laws and legitimate rights, not whims or emotions," and says that it is not the prerogative of the legal, but the executive branch to decide the islands' fate.
It remains unclear what further challenges await the reassignment of Sanafir and Tiran, but over the past year, Saudi Arabia cut fuel subsidies to Cairo, in what many believe was a move designed to put more pressure on struggling Egypt to expedite the transfer.