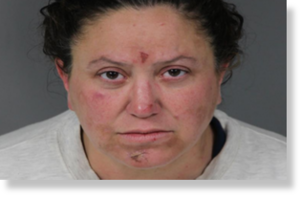 A Ferndale woman was arrested Friday after she allegedly was seen on a Humboldt County beach striking, biting and choking her 11-year-old child in an attempted exorcism.
The Humboldt County Sheriff's Office received a 911 call abut 9 a.m. reporting a mother attacking her child at Centerville beach near Ferndale. The caller said the mother was attempting to perform an exorcism. She had stripped the child naked and was shoving handfuls of sand in the youngster's eyes and mouth, according to a Sheriff's Office news release. The woman reportedly stated that she was trying to remove demons from the child.
The mother was identified as 45-year-old Kimberly Felder.
The alleged assault was witnessed by a crowd of 10 to 12 people, the news release said. A local resident, John Marciel, stepped in and tried to restrain Felder. He struggled with her on the ground as Felder continued to attack the child, hitting the youngster in the head with a piece of driftwood, according to the news release.
A sheriff's deputy arrived a short time later, pulled Felder away from the child and placed her in handcuffs.
The child was taken to a hospital for treatment of injuries, including severe damage to an ear, the news release said.
Felder was booked into the Humboldt County Correctional Facility on suspicion of attempted homicide, assault with a deadly weapon, felony child abuse and aggravated mayhem.
The Sheriff's Office commended Marciel for intervening, saying he likely prevented the youngster from being killed. The Sheriff's Office is requesting that Marciel be recognized with the Red Cross Life Saving Award for his actions, the news release said.
Comment:
And then from the
Detroit Free Press
we see
this story
.
A Livingston County man is heading to prison for slapping his teen daughter during an argument that she says arose after he and other members of the family tried to perform a forced exorcism.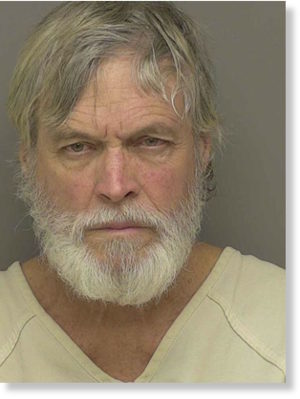 William Ellis Watt of Gregory was sentenced to one to 10 years in prison for third-offense domestic violence Friday for an incident that occurred in September.
According to a police report filed by his daughter last fall, around 10:30 a.m. Sept. 24, the then-18-year-old was sitting on a couch watching television when Watt, his wife and son approached her and began chanting "the power of Christ compels you."
The brother, who had been repairing a wall in the house just prior, began smearing plaster on her face, the report said, and then family members tipped the couch she was sitting on and threw a reusable water bottle at her, which left a cut on her nose.
The teen was able to leave what she described as a forced exorcism and go to work
.
But when she returned home that night, the report said, Watt confronted her while she was eating and accused her of stealing his food. During a back and forth over the meal, the teen told police, Watt slapped her across the cheek. Eventually, a friend came and picked her up, which is when she called the police.
While Watt has maintained his innocence, stating that the "false accusations" came from an "arrogant" and "deceitful" teen, Livingston County Court Judge Miriam Cavanaugh wasn't buying it.
"You beat up your family. When are you going to learn?" she said during the sentencing.
"You can't put your hands on your adult children. You don't get to kick around your kids because they're your kids," she added. "You don't get to grab her neck or slap her in the face."
Watt has a criminal history dating to 1997, when he was charged with domestic violence for assault of a family member. In the two decades since, he has accrued an extensive rap sheet. In 2001, he was convicted of domestic violence and phone interruption for assaulting his wife and then trying to disconnect the phone when she attempted to call 9-1-1 for help. Three years later, in 2004, Watt was accused of choking his then 16-year-old son. In 2008, he was convicted of two counts of felonious assault with a dangerous weapon, which led to his first prison sentence. After being released in 2011, he was convicted of assault with intent to strangle his daughter. He was sentenced to 10 months in jail. Shortly after being released is when the most recent incident occurred.
"Clearly, he earned a prison sentence," said Livingston County Prosecutor William J. Vailliencourt Jr. "You cannot look at his conduct in a vacuum, and when you look at the length of his history of violence and family violence, he earned a prison sentence."