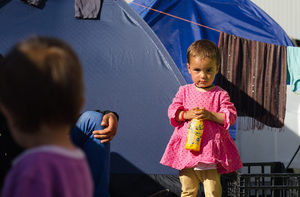 Three children in the Deir-Ez-Zor eastern region of Syria have contracted polio during the past three months. The World Health Organization (WHO) confirmed on June 8, 2017 that a polio virus strain designated as vaccine-derived poliovirus type 2 (cVDPV2) was found in a healthy Syrian child and two other children diagnosed with Acute Flaccid Paralysis (AFP)—an acute form of paralysis. The children with AFP experienced the onset of paralysis on March 5 and May 6.
1, 2
The cVDPV2 strain is a "mutated version of the [polio]virus in some vaccines rather than a wild polio strain."
This vaccine-derived poliovirus is caused by the oral polio vaccine (OPV), which uses an attenuated (weakened but still alive) form of the poliovirus.
2
AFP, also known as Acute Flaccid Myelitis (AFM) or non-polio AFP (NPAFP), has been reported by the media since 2014 as a "mysterious polio-like illness"
3
and some researchers believe it is caused by enterovirus-68 (EV68)
3,4
A recent animal study found that the EV-D68 strain associated with a nationwide outbreak of enterovirus respiratory disease in 2014 can cause paralysis in mice.
5
In a paper published in the
Indian Journal of Medical Ethics
in 2012, Neetu Vashisht, MD and Jacob Puliya, MD wrote:
"Clinically indistinguishable from polio paralysis but twice as deadly, the incidence of NPAFP was directly proportional to doses of oral polio [vaccine] received."4,6
Syrian authorities conducted polio vaccination campaigns in Deir-Ez-Zor in March and April 2017 using "bivalent oral polio vaccine."
1
The polio eradication program in Syria has received reports of 58 children who have been diagnosed with AFP in Deir-Ez-Zor. Tests conducted on the children thus far have determined that vaccine-derived polio viruses were not responsible for the onset of the disease in 11 of the cases. Further testing is planned for the remainder of the children.
7
The WHO confirmed two cases of vaccine-derived poliovirus type 1 (cVDPV1) in Ukraine in 2015.
8
References