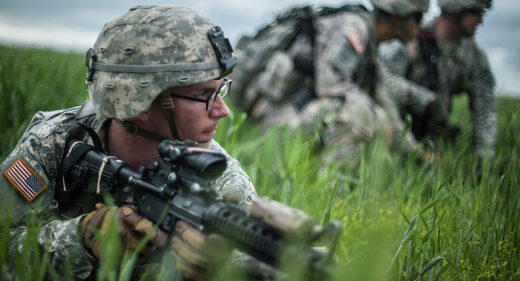 The US government is looking for a private contractor ready to provide intelligence technical support services throughout the US Army Europe area of responsibility, which includes Central Europe, Eastern Europe, and Africa.
Sputnik considers whether this means that the US is going to be upping its spy game.
The opening appeared on the US government's website for contract opportunities Federal Business Opportunities FBO.gov.
"This requirement is for US Army Europe/7th Army for a non-personal services contract for intelligence technical support services (ITSS) throughout the US Army Europe (USAREUR) Area of Responsibility (AOR) which includes but is not limited to Central Europe, Eastern Europe, and Africa,"
says the description.
USAREUR has its headquarters in Wiesbaden, Germany and its area of responsibility covers 51 countries, according to its
official website.
Among the specified places of performance of the contract are German Wiesbaden, Grafenwoehr and Darmstadt, Italian Vicenza and Kosovan Camp Bondsteel, the main base of the US Army under the Kosovo Force (KFOR) command in Kosovo. The base also serves as the NATO headquarters for KFOR's Multinational Battle Group East (MNBG-E).
"Additional locations may be added at any time and can span the entire USAREUR Area of Responsibility in accordance with the attached draft Performance Work Statement (PWS)," the document says.
The purpose of the contract is "to provide timely intelligence for Army in Europe activities to enhance conduct of operations and support Force Protection of forces in Germany and Italy, and to deployed contingency operations in the Balkans."
The contract is in the end stages of the procurement process and is anticipated to be awarded in May of 2017.
Intelligence analysis work under the ITSS contract includes All-Source and single disciplines, such as Counterintelligence/Human Intelligence (CI/HUMINT) and Open Source Intelligence (OSINT) as well as specialized skills such as counter terrorism, criminal intelligence, insider threat, and other areas.
"Support to intelligence operations includes security services; and personnel screening support, Operation, maintenance, and sustainment of Information Technology (IT) networks and systems include System Engineering and Network Engineering," reads the request.
Interestingly enough, shortly after the opening of the opportunity, Hoyt Brian Yee, Deputy Assistant Secretary of State for European and Eurasian affairs urged Balkan nations to guard against efforts by Russia to increase its influence in the region and undermine ties with the West.
"We, of course, remain hopeful that Russia will play a constructive role in the Balkans, as it has in the past, but we must remain vigilant, all of us...in watching what Russia is attempting to do," Hoyt Brian Yee said after meeting with Serbian Prime Minister Aleksandar Vucic in Belgrade on May, 24.