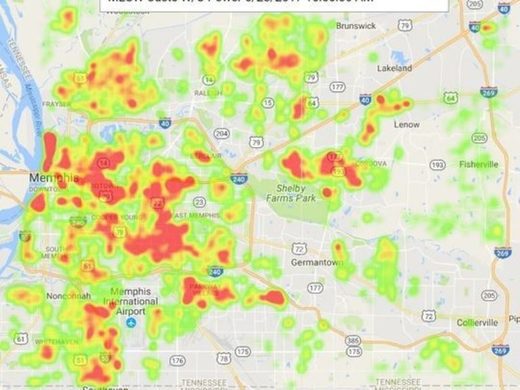 More than 138,000 customers in the Memphis area remained without power Sunday evening following severe storms, public utility officials said.
Thunderstorms swept through portions of Tennessee Saturday night and early Sunday morning. There were no immediate reports of injuries.
Memphis Light, Gas & Water President Jerry Collins said at a news conference Sunday that
it will take more than a week to restore service
to all of the 188,000 customers who initially lost power.
Collins said it was
the third largest outage in the city's history
, surpassed only by a 1994 ice storm and Hurricane Elvis in 2003.
Residents were warned against using generators indoors to prevent the chance of carbon monoxide poisoning.
"I encourage anybody who is in desperate need of air conditioning or power to make arrangements with neighbors or relatives so that you can stay with those folks while we work on restoring the power," Collins said.
Temperatures in Memphis are expected to be in the mid-80s this week and "we encourage everybody to think ahead, have a plan (and) play it safe so that we can keep everybody healthy," he said.
Memphis Mayor Jim Strickland told residents to be patient as crews clear downed trees and restore traffic lights to at least 20 street intersections. Emergency crews estimate more than 30 homes and businesses were damaged.
The American Red Cross has opened an emergency shelter at the Orange Mound Community Center in Memphis.
In eastern Tennessee, about 6,400 Knoxville Utilities Board customers were without electricity Sunday evening, down from about 49,000 outages on Saturday night. The utility says some customers may not see power restored until Tuesday.
Source: Associated Press