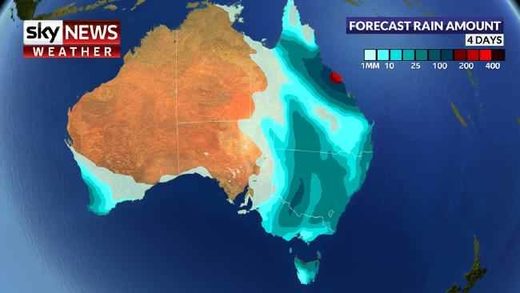 Towns along Queensland's coastline have been hit with record deluges as forecasters warn of potential flash flooding across the state.
Collinsville and Proserpine in the Whitsunday region both had their wettest May day on record, with respective downpours of 120mm and 111mm, the Bureau of Meteorology said on Friday afternoon.
The drenching has seen areas around Townsville in north Queensland drenched by more than
100mm of rain over the 24 hours
to Friday morning, while there were also steady falls further down the coast.
The soaking even forced Townsville City Council to cancel Heritage Day, which was set to take place on Sunday, as well as warn residents to be on the look out for pot holes.
Minor flood warnings were also put in place for the Ross River and Houghton River near Townsville and the Don River and Proserpine River near Bowen and Proserpine.
There are also flood watches for coastal catchments between Tully and Gladstone, stretching inland to parts of the Burdekin and Fitzroy catchments, as well as southwest Queensland.
The deluge is expected to last through Friday before easing off on Saturday.
Brisbane is tipped to get around 35mm to 60mm of rain on Friday.