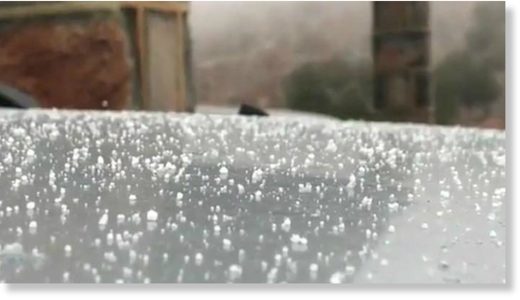 Moderate to heavy rain and hail hit different parts of the northern Emirates, including Fujairah and Ras Al Khaimah on Thursday afternoon.
Thundershowers were continuing over some parts of Hatta on Thursday afternoon, according to the National Centre for Meteorology and Seismology.
Fujairah police urged motorist to exercise extra caution while driving on the roads and to abide by traffic rules.
Police patrols have been deployed on the roads to regulate traffic as rainwater filled many interior roads and highways.
Shaikh Khalifa Road in Fujairah witnessed heavy rain and hail causing damage to several cars.
Thundershowers with hail were also reported in Khor Fakkan, Al Qor, Dibba-Masafi Road, Dafta and Masafi at around 2pm.
The showers have been attributed to the formation of towering clouds due to the convergence of strong winds from the Gulf of Oman with a good amount of relative humidity and rising temperature.
Earlier in the day, the met office had warned of chances of towering cloud formation associated with rainfall and fresh winds causing blowing dust/sand with poor visibility at times over some eastern and northern areas.
In social media posts, it said the country will be affected by fluctuations in weather conditions till Monday as an extension of surface low pressure accompanied by a high altitude atmospheric depression is expected to cause partially cloudy weather with some towering clouds in some areas, especially the eastern and northern parts of the country.
"Friday will see some clouds and some rains over eastern mountains. During Saturday and Sunday, light to moderate rains can be expected over most of the southern and northern areas starting from Ras Al Khaimah, and Fujairah, to Dubai, Abu Dhabi to Al Ain," a spokesperson from the weather department told Gulf News.