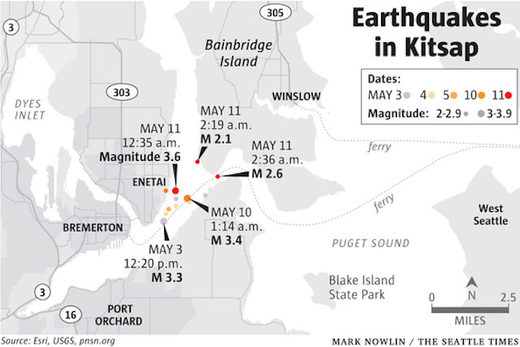 After more than a dozen earthquakes, including two early Thursday, struck around the Kitsap Peninsula since early May, another small temblor off Whidbey Island shook the Seattle area
After two earthquakes early Thursday, part of a swarm of minor quakes that have struck the Kitsap Peninsula, another earthquake was detected at 10:56 a.m. off Whidbey Island.
The first quake hit at 12:34 a.m. Thursday, with a magnitude of 3.6 and an epicenter 3.4 miles from Bremerton, according to the University of Washington's Pacific Northwest Seismic Network (PNSN). More than
700 people reported
to the U.S. Geological Survey (USGS) that they felt some intensity of shaking in places from Vashon Island to Bellevue to Lynnwood.
The second, smaller temblor came at 2:36 a.m., with a magnitude of 2.6 and an epicenter 2.1 miles from Bremerton.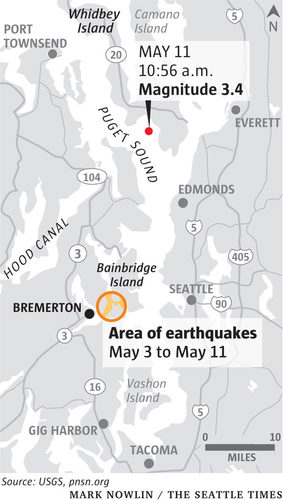 The earthquakes were the latest in a series of 13 that have occurred around the Kitsap Peninsula since May 3. None had a magnitude greater than 3.6.
Earthquakes registering between 2.0 and 3.9 on the Richter scale are considered minor.
The earthquakes struck near the Seattle fault, a zone of thrust faults that run through Seattle and across the Puget Sound.
More than 200 people reported to the USGS that they had felt the 3.4 magnitude earthquake off Whidbey Island.
John Vidale, director of the PNSN, said it's likely the swarm that has been detected will end soon — and it's likely not connected to the Whidbey quake.
"There's no reason to believe the Bremerton swarm would trigger the Whidbey earthquake, 50 kilometers away," he said.
"It's probably a coincidence."