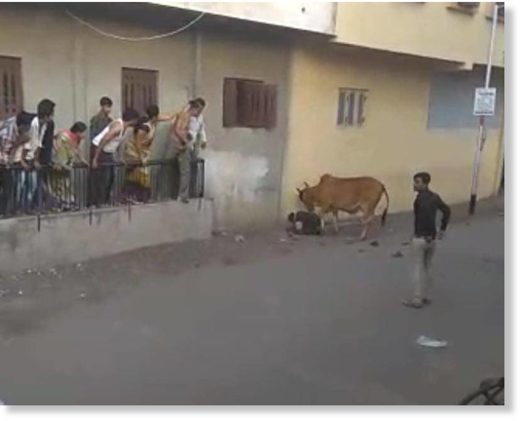 A stray cow went berserk and seriously injured a motorcycle-borne diamond polisher at Rukshmani Nagar society near Bapasitaram Chowk in Katargam on late Wednesday evening. The incident occurred when Dinesh Prajapati, 38, was returning home from work.
The angry cow came in front of Prajapati, a resident of adjoining Nandanvan Society, and he lost control on the vehicle. The cow continued to attack the youth for more than 20 minutes
, before the youth gathered courage to escape when other residents were trying to rescue him.
According to eyewitnesses, the stray cow suddenly attacked Prajapati, who was passing from the society.
"The cow first attacked his motorcycle and the youth fell on the ground. It started hitting him with its horns. The youth was lucky that he skidded towards the big wall in the society and the cow had got tired of hitting him with horns. The man remained at the wall for a long time, when we pelted stones and attacked the cow with sticks," they said.
"No one dared to go near the cow as she was very angry. The residents living on the upper floors of the society threw water on the animal.
Suddenly, it moved forward to attack another person standing nearby, but he got away from the spot on time," they added.
Arjun Patel, another resident, said, "We have been facing stray cow menace for a long time. There are cowsheds outside our society and the Rabari community members are very ferocious. We can't even shoo away the cows, fearing their retaliation."
Another resident, requesting anonymity, said, "We made several complaints to the Katargam zone police for curbing the cow menace inside our society, but they have yet to take action."
Sources said that the diamond polisher was lucky to have escaped unhurt. He had few bruises on his body and he was shifted to a nearby private hospital for primary treatment.