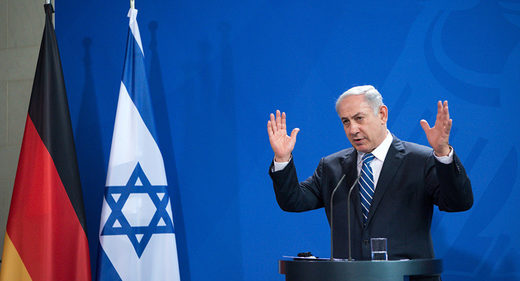 Israeli Prime Minister Benjamin Netanyahu has threatened to cancel a planned meeting with German Foreign Minister Sigmar Gabriel over his plans to meet with the Israeli Defense Force (IDF) veteran organization Breaking The Silence, as the relationship between the two nations worsens yet further.
Gabriel arrived in Israel April 24, and was set to meet with Netanyahu, along with President Reuven Rivlin in Jerusalem and Palestinian Authority Prime Minister Rami Hamdallah in Ramallah, the next day. He is also to hold talks with Israeli opposition leader Issac Herzog, head of the Zionist Union. He is expected to discuss the peace process, which has been stalled since
April 2014
.
"With respect to the Middle East conflict, our solidarity with Israel means working to ensure that Israel and Palestine can live side by side in dignity and peace. Only a two-state solution will be sustainable," Gabriel said in a statement, released as he departed for the region.
While Netanyahu's office is yet to officially confirm the meeting's cancellation, the Prime Minister's schedule for April 25 omits the meeting, and Herzog has himself called on Netanyahu to rescind the ultimatum, stating the move was a "serious blow" to Israel's ties with a "true friend." He suggested Netanyahu at least meet with Gabriel to explain his opposition to Breaking The Silence.
However, other voices were more laudatory, with Deputy Foreign Minister Tzipi Hotovely congratulating Netanyahu for setting a red line with regard to "anti-Israel" organizations, and Yesh Atid leader Yair Lapid suggesting Merkel would have responded the same way if Netanyahu had met with radical left-wing groups while visiting Germany.
Gabriel's visit, his first since becoming Foreign Minister in January,
comes as German concerns about Israeli settlement expansion have degraded ties between the two nations to their lowest point in decades.
Since the creation of Israel by the United Nations in 1948, successive German governments have placed great emphasis on achieving strong relations with the country, and making amends for the treatment of Jewish citizens of Europe under the Nazis.
However, in March,
Chancellor Angela Merkel
canceled
a planned May summit with Netanyahu in response to the Knesset voting to expand illegal settlements in the occupied territories yet further.
At the time, a German Foreign Ministry spokesperson said the move had "fundamentally shaken" German trust in the government's commitment to a two-state solution.
The Netanyahu government has demonstrated a consistent determination to crack down on critical organizations, for instance
passing a law in July 2016
, which targets human right groups, imposing onerous reporting requirements that burden their activities
— while the law's wording does not specifically refer to any organization, pro-Israel NGOs are not impacted by its requirements.
In February, the government
refused to issue visas to Human Rights Watch
(HRW) staff, accusing the group of having an "extreme, hostile and anti-Israel agenda." In March, the Knesset gave final approval to a bill
forbidding entry visas
and/or residency rights to foreign nationals who call for economic, cultural or academic boycotts of either Israel or its settlement expansion activities.
Breaking The Silence
is a particularly problematic organization for the government, as it collects testimony from IDF veterans about their military service in the West Bank, Gaza Strip, and East Jerusalem since the Second Intifada, and documents abuse towards Palestinians, including looting and destruction of property, by the IDF and Israeli settlers.
While 33-year IDF veteran General Amiram Levin has stated the group "strengthens the IDF and its morality," Netanyahu has said their activities are "intolerable" and amount to an attempt to "discredit" the IDF. In February, Israel reprimanded Belgium after discovering Prime Minister Charles Michel had met with the group.