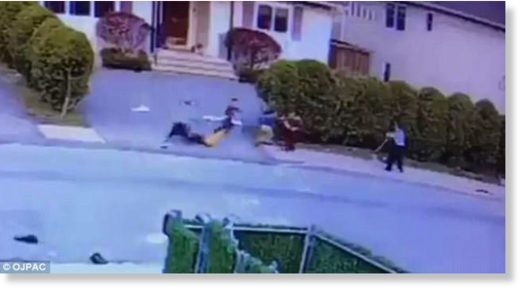 A disturbing video shows the shocking moment a pit bull attacked an unassuming toddler in New York on Thursday.
The three-year-old boy is recovering and has been released from the hospital,
WABC reported.
The footage shows the toddler playing on a sidewalk with other children outside of a Spring Valley home when the dog runs across the street and charges at him.
The boy, who is wearing bright yellow pants, is immediately attacked by the pit bull and dragged across the ground for a few seconds as the other children run away out of fear.
A few adults jumped out of vehicles that were passing by to help the boy and seize the dog.
A photo taken after the attack shows the left side of the little boy's face with several bite wounds.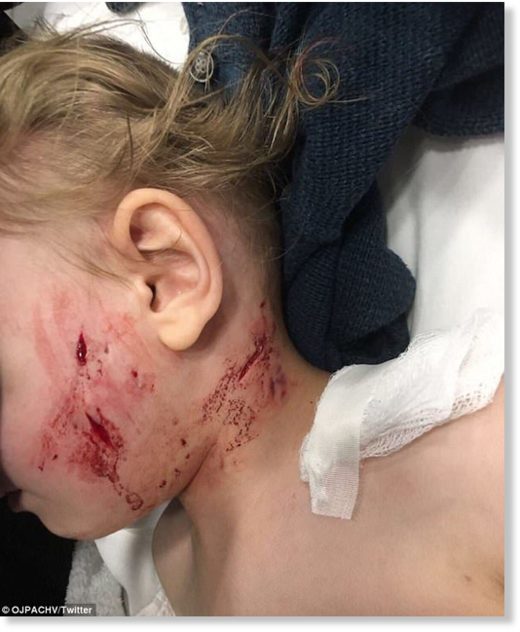 The pit bull was reportedly returned to its owner and the Spring Valley police department is looking into the incident to determine whether the dog has a history of violence, the
New York Daily News
reported.
The toddler, who has not been publicly identified, is a young Jewish boy, according to the Orthodox Jewish Public Affairs Council (OJPAC) of Hudson Valley.
The OJPAC claims the pit bull's owner has let the dog outside without a collar on numerous times in recent weeks.
'Neighbors say they have called the Spring Valley PD (sic) about this multiple times but little action has been taken,' the council said on
Twitter.