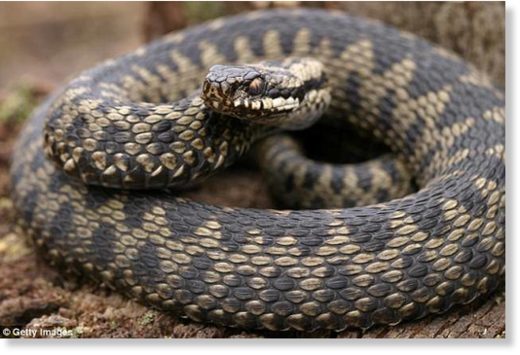 A young father was left fighting for his life after being bitten by a 3ft snake hiding under his toddler son's buggy.
Josh Rose, 27, from south-west London, was taking his children for a picnic last Saturday when he was attacked by the adder.
Mr Rose was sent into anaphylactic shock and was temporarily paralysed while he helplessly watched the snake slither close to his two young sons.
The builder had seen the so-called 'crack' adder, which hides between rocks, under his two-year-old son Sebastian's pushchair on Hounslow Heath last Saturday.
But when he tried to shoo it away the reptile bit him on the finger and he quickly fell very ill.
The adder, which is the only venomous snake living wild in the UK, continued to thrash around near his boys Sebastian, two, and Lincoln, three, as Mr Rose collapsed.
Describing what happened he told
The Sun:
'I was paralysed, my blood started to clot and I couldn't speak, I was foaming at the mouth.
'I could hear everyone talking, but couldn't open my eyes or speak. It was horrible.'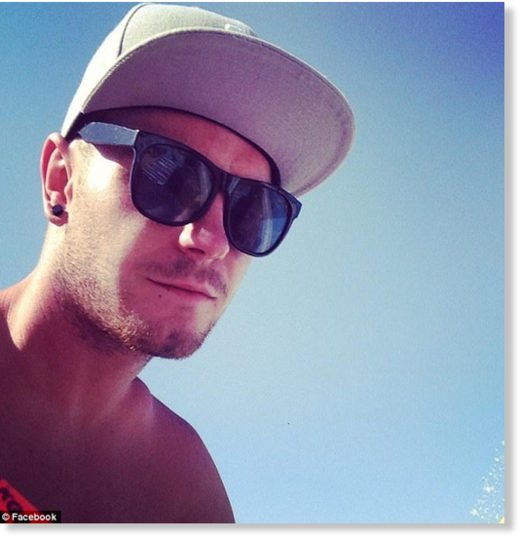 A passing walker rushed over and forced the snake away with a stick before calling an ambulance.
Mr Rose was rushed to West Middlesex Hospital by ambulance where paramedics needed to thin his blood to keep his heart going because his pulse dropped.
Doctors then gave him anti-venom and he spent 24 hours in intensive care.
He said: 'I feel like I've been hit by a truck. I'm just happy it wasn't one of my boys or my sister's kids'.
The last death in the UK from an adder bite was in 1975 when a five-year-old boy was bitten on the ankle in the Trossachs, in Scotland.

Research published after this incident showed there had been 14 deaths from adder bites in the previous 100 years.
Adder bite symptoms include swelling, vomiting, nausea and dizziness and, in most cases, the only treatment required is observation in hospital.
More severe bites are treated with anti-venom medication.
Children bitten by an adder will usually make a full recovery in about one to three weeks but adults usually require more than three weeks to recover fully. Some adults can take up to nine months.
About 100 adder bites are reported in the UK each year, with most between February and October.
The snake, which grows to up to about 30 inches long, is common throughout mainland Britain.