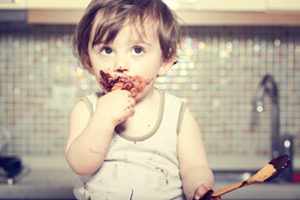 If you have a sweet tooth, you may have read studies talking about the health benefits associated with eating moderate amounts of chocolate. But our research has found a potential health risk in popular chocolate products that's been flying under the radar - some chocolate contains toxic metals like lead and cadmium.
As You Sow has conducted independent laboratory testing of 70 chocolate products for lead and cadmium. We found that 45 of the 70 chocolate products contain lead and/or cadmium above the safe harbor threshold of California's Safe Drinking Water and Toxic Enforcement Act of 1986 (Proposition 65). Based on these results, we have filed notices with 18 manufacturers, including Trader Joe's, Hershey's, Mondelēz, Lindt, Whole Foods, Kroger, Godiva, See's Candies, Mars, Theo Chocolate, Equal Exchange, Ghirardelli, Earth Circle Organics, and more, for failing to provide the legally required warning to consumers that the products contain cadmium or lead, or both.
No level of lead is safe for children.
Lead exposure has been a significant public health issue for decades. Lead is linked to a variety of neurological impairments, including learning disabilities, seizures, and a lower IQ. Developing fetuses and children are especially vulnerable to lead exposure because their brains are in critical growth and development stages.
"As underscored by the Flint disaster, humans have contaminated our environment with lead, and now we must do everything in our power to protect ourselves and our children, who are the most vulnerable of us, from every possible exposure," said
Sean Palfrey, MD,
a pediatrician and Professor of Pediatrics and Public Health at Boston University School of Medicine. "Young children and pregnant women especially should avoid exposure to lead."
Cadmium can cause damage to the kidney, liver, and bones, while also impairing neurobehavioral development. Lead and cadmium are both listed under the act as reproductive toxins.
California law ensures consumers receive warnings before they are harmed.
To protect consumers, companies should take immediate steps to remove these toxic heavy metals from their products or, at a minimum, to provide consumers with warnings according to Proposition 65. If the heavy metals are not removed, people need to be informed so they can protect themselves and their families.
Consumers' input is important to food manufacturers and we, as consumers, should make companies aware that we take this issue seriously. If your favorite manufacturer is on the warning-required list, call, tweet, or otherwise ask them to remove or reduce the heavy metals from their products. Investors should also consider potential risk if they own shares of these companies.
Read our release
Use the
following search engine
to see if your favorite chocolate has heavy metal contamination.