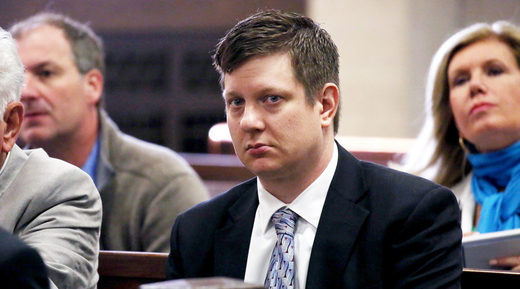 A grand jury has levied 16 new counts of aggravated battery with a firearm to the murder charges against Chicago Police Department Officer Jason Van Dyke, who is accused of fatally shooting Laquan McDonald in October 2014.
The new indictment, announced Thursday, adds to the six counts of first-degree murder and one count of official misconduct against Van Dyke, 38
. The 16 counts of aggravated battery represent the number of times the officer fired at McDonald, 17, on October 20, 2014.
The night of McDonald's murder, police were responding to reports of a man acting erratically and breaking into vehicles in the city's Archer Heights neighborhood. Officers allege McDonald was holding a 4-inch knife, used to puncture a tire of a police squad car. The teen was ordered to drop the knife, but he reportedly refused.
Police initially said McDonald had lunged at officers with a knife, but this did not align with dash-cam footage of the incident. The video showed McDonald walking away from police when Van Dyke, a white man, shot McDonald, a black teen, 16 times in the space of about 30 seconds.
McDonald's body was riddled with bullets from the neck to the upper leg
in what witnesses have called an execution-style murder.
Van Dyke was not
charged
for a year after the killing, until police dashboard-camera footage of the incident was released in November 2015
, igniting protests across Chicago and beyond, marked by the phrase "16 shots and a cover-up."
A special prosecutor, Joseph McMahon, was
appointed
to the case in August 2016. The murder and misconduct charges were filed when the case was handled by former State's Attorney Anita Alvarez.
Van Dyke's defense attorneys filed motions earlier this year seeking to dismiss the charges, arguing that statements the officer made to investigators have been improperly used against him during the grand jury process. Daniel Herbert, Van Dyke's lead attorney, has claimed the original charges that were decided by a grand jury were based on false or incorrect information.
Steve Greenberg, another of Van Dyke's attorneys, said Thursday the new charges were unusual based on the previous murder charge.
"If you shoot a guy 16 times, that's aggravated battery. If you shoot him 16 times and he dies, then that's murder," Greenberg said,
according
to the
Chicago Sun-Times
. "Either you've got the horses to charge someone with murder or you don't. It's odd."
Chicago PD Superintendent Eddie Johnson has
recommended
that several officers accused of covering up McDonald's shooting be fired, including Van Dyke
, who was suspended without pay for a year and a half,
according
to WBBM.
The case also encouraged the US Department of Justice (DOJ) to investigate the practices and policies of the Chicago Police Department. In January, the DOJ
released
its findings, detailing systemic civil rights and federal law violations. The Chicago PD "engages in a pattern or practice of using force, including deadly force, in violation of the Fourth Amendment of the Constitution," the DOJ said.